Life after addiction: One year after an opioid overdose video went viral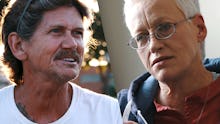 Just over a year ago, a bystander on a Memphis, Tennessee, sidewalk captured video of Ronald and Carla Hiers slumped on the ground after overdosing on heroin. "Damn, they smoked some good dope!" says the bystander, as Carla struggles to lift her head off the pavement and Ronald appears frozen in a contorted backbend.
In the year since the video went viral on social media, the full scope of the opioid epidemic has just begun to emerge. Drug overdoses claimed 500,000 lives between 2000 and 2015. In September, a Centers for Disease Control and Prevention study found that opioids had "shaved 2.5 months off Americans' life expectancy" by 2015. And on Oct. 26, President Donald Trump declared the opioid crisis a national public health emergency, directing federal agencies to focus existing resources to fighting the problem, though without requesting additional funds.
Mic and Time magazine partnered to explore the impact of this epidemic, documenting the Hiers as they tried to turn their lives around after the viral video forced them to confront a decades-long battle with addiction. The video above shows where the couple is now — and how they got there. Time also has a full story about the Hiers and the state of America's worsening opioid epidemic.