Trump ends protected residency for thousands living in US legally from Nicaragua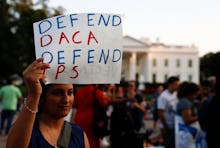 The Department of Homeland Security announced Monday that 5,300 immigrants from Nicaragua who have been temporarily allowed to live in the U.S. must return home by January 2019, a senior Trump administration official said Monday night. But 86,000 immigrants from Honduras allowed to stay in the U.S. temporarily had their status extended for six months, until July 5, 2018.
The Trump administration signaled it will end the Temporary Protected Status program, known as TPS, for Nicaraguans whose status were set to expire in January. The decision gives those immigrants, who currently live in the U.S. legally, until January 2019 to leave the U.S.
The official said DHS has not made a decision about ending TPS for 200,000 Salvadorans and 50,000 Haitians awaiting a coming decision on their future. DHS will have to decide before the end of the year whether TPS should also end for those immigrants.
If TPS is also revoked for those communities, then more than 300,000 individuals — some of whom have lived in the U.S. for nearly two decades — will face deportation if they do not return to their home countries.
TPS was created in 1990 by Congress to protect those who came to the U.S. following instability in their home country from deportation. A wave of immigrants came to the U.S. in 1998 from Honduras and Nicaragua following Hurricane Mitch, and their status was regularly renewed by George W. Bush and Barack Obama's administrations.
TPS grants immigrants legal status in the U.S. — they can work and must pay taxes — because of conditions in their home country, such as civil war or natural disaster. Since the hurricane, the U.S. has renewed TPS for Hondurans 13 times.
Honduras' TPS program may end in July, the official said. The source added that information about people with TPS status from Nicaragua will not be "proactively shared" with Immigration and Customs Enforcement, the federal agency that deports undocumented immigrants living in the U.S.
The department's decision Monday followed a letter sent last week by Secretary of State Rex Tillerson that green-lit DHS to revoke TPS residency for thousands of immigrants.
Democrats and immigrant rights groups have largely led the charge to push for preservation of TPS, but some Republicans are also on board. Seven members of the GOP sent Acting DHS Secretary Elaine Duke a letter on Nov. 2 pushing for the program to continue.
The Trump administration has argued the program should be temporary, as the name suggests. Back in June, then-Homeland Security Secretary John Kelly said the Haitian government should prepare to accept Haitians living in the U.S. under TPS.
"Things in Haiti were tough for decades prior to the earthquake, and will be tough for decades to come," Kelly, now the White House chief of staff, said at the time, referencing Haiti's devastating 2010 quake. "But the reason TPS was granted was because of the earthquake."
This is only the latest Trump administration move to roll back federal programs that protect immigrants living in the U.S.
In September, Trump announced he would end the Deferred Action for Childhood Arrivals program, known as DACA, after a six-month delay. About 800,000 immigrants who came to the U.S. as children are in limbo, waiting to see if Congress comes to an agreement to protect their legal status in the U.S.