Why Starbucks' next big move is fancy, house-made bread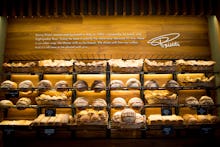 Despite trends that show Americans are not buying gluten, Starbucks' next big business move is all about fancy Italian bread.
Starbucks unveiled the Princi brand in a Starbucks Reserve Roastery in Seattle on Tuesday. In July 2016, the coffee company announced it had invested in the artisanal bakery, which was founded by renowned Italian baker Rocco Princi in 1986. There are currently five Princi shops in Milan and one in London, and Seattle's Princi is the first outpost of the Italian bakery to open in the U.S.
By the end of 2017, Starbucks hopes to operate roughly 1,000 Reserve cafés, its premium brand that competes with specialty companies like Blue Bottle and Stumptown. The first Princi shares a space with the Starbucks Reserve Roastery (Seattle is the only location that roasts its beans on-site, which is why it's called a "roastery"), and upcoming stores will follow a similar format. The next Princis and Reserve Roasteries will open on Dec. 6 in Shanghai, 2018 in New York City and 2019 in Chicago.
Starbucks hosted Mic at a preview event at Seattle's Princi on Thursday. In the store, a subtle toasty, bready smell wafted through the air. Behind the counter, bakers shuttled tasty-looking goods into and out of three black state-of-the-art ovens at the back of the shop. Pizzas, croissants, salads, cakes and breads were displayed like artwork under a waist-high glass counter — similar to what you might see at Maison Kayser, a French-bakery-turned-international-chain. A slice of margherita pizza cost $8, as did the loaves of bread.
Commessas — Italian for "shop assistants" — will be on-hand to answer questions about the prepared foods. (Princi will rotate through 100-plus options throughout the day.) This marks the first time that Starbucks is baking its goods on-site, as opposed to an off-site bakery.
Taking cues from the Italians
The upscale bakery will undoubtedly appeal to a different set of consumers than the average Starbucks fans — perhaps people who are willing to spend more on a hearty meal or linger longer. Since there's no menu board, consumers will need to approach the bakery case to see what goods are for sale. Starbucks spokespeople said the countertop is supposed to mimic the Princi café experience in Milan. With wooden communal tables and a sleek design, the bakery feels like a fresher option than a typical Starbucks — and there's less of a "to-go" vibe.
The food tastes better, too. The pizza built atop focaccia is crunchy with hints of olive oil and salt. A whopping 53 ingredients are imported from Italy, including prosciutto used in sandwiches and a fruity raspberry jam stuffed into cornetti (croissants) served at breakfast. Princi customers can also order alcohol and Starbucks espresso drinks.
Starbucks' complicated history with food
When Starbucks first announced it was investing in Princi, it felt like deja vu: The green mermaid has made a habit of buying up food companies outside of its coffee wheelhouse.
Starbucks bought Evolution Fresh in 2011 and then shuttered the four juice bar and cafés in February. Starbucks continues to sell Evolution Fresh cold-pressed juices in stores. In 2012, Starbucks bought La Boulange, a bakery and café with locations in California, to expand the food products at Starbucks. Just three years later, Starbucks shut down 23 La Boulange retail locations but continued serving the bakery's recipes in Starbucks stores. Starbucks also had a failed attempt to open Teavana tea bars across the United States.
It's no secret that Starbucks wants to sell more food. Roughly 20% of Starbucks' total revenue comes from food sales, and the company has previously said lunch options will be a priority for standard Starbucks locations.
If Starbucks has its way, the Princi stores — with freshly baked breads that are meant to be paired with the premium coffees sold at Reserves — will convince customers to linger longer, eat more and, of course, spend more money.