Mic Wakeup: Trial of an NYPD officer has a familiar end, and a teen possibly killed for being gay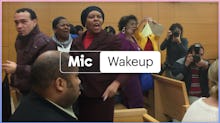 Here are two stories to start your day on Tuesday, Nov. 7, 2017.
Wayne Isaacs' fate
On Monday, Wayne Isaacs, the New York City police officer who fatally shot Delrawn Small, a 37-year-old unarmed black man, was found not guilty of murder or manslaughter. Mic's Chauncey Alcorn and Aaron Morrison take you inside the tense courtroom scene following the verdict.
Isaacs is at least the fifth police officer to be acquitted in 2017 in fatal shootings of black people.
"Even as someone with great faith in the legal system's ability to hold wrongdoers accountable, it is agonizing to watch officer after officer evade accountability," Sherrilyn Ifill, NAACP LDF president and director-counsel, said in a statement.
The tragic story of a 14-year-old allegedly killed by his father
Giovanni Melton, a 14-year-old boy from Nevada, was allegedly killed by his father on Thursday, according to local police.
Though police did not immediately give a possible motive for Melton's father's alleged crime, Sonja Jones, who considered herself Melton's "foster mother" explained that the boy's father always hated that his son was gay.
LGBTQ children are especially at risk when faced with rejection by family members; a 2015 study found that LGBTQ children make up a large percentage of homeless youth in the U.S.
Nov. 8, 2017, 11:43 a.m.: This story has been updated.