Marvel gave indigenous director Taika Waititi its worst franchise in 'Thor.' He turned it around.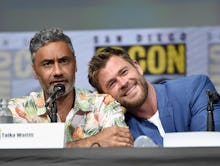 Marvel's Thor franchise has long been considered its worst Avengers tributary. The second film in the series, The Dark World, is regularly panned in critical rankings of the 17 Marvel cinematic universe films — typically landing in or near last place.
The Iron Man movies are a nimble showcase for Tony Stark's sardonic wit and technological know-how. Captain America shows us Steve Rogers' life as a century-old soldier whose friends are either dead, dying or brainwashed, without losing its sense of adventure. In contrast, the Thor films have been uniformly boilerplate, lacking any real inspiration as they slogged through the motions with a hero whose self-seriousness rendered him the least interesting character in his own story.
That all changed when Thor: Ragnarok, the series' third entry, debuted in theaters Friday. It outstripped its two predecessors by grossing more than $122 million at the box office and boasting a 93% rating on critical aggregator Rotten Tomatoes.
Ragnarok isn't just the best-received Thor movie by a long shot. It's one of the most celebrated Marvel films to date, period. So, what happened? For starters, the studio seems to have taken a page from its Guardians of the Galaxy playbook and rewritten the god of thunder (played by Chris Hemsworth) as a chatty comedic hero bouncing around the universe in a series of misadventures.
But the film's most inspired ingredient is Marvel's choice of director: Taika Waititi, a Jewish-Maori filmmaker best known for big-hearted dramedies about indigenous life in his native New Zealand. Waititi, 42, is "the first indigenous person ever to be handed the reins of a superhero megamovie," according to a New York Times Magazine profile published in October — and hiring him may be the best decision Marvel Studios ever made.
Waititi isn't the first independent filmmaker to be granted stewardship of a big-budget superhero project, but he is the first in what's shaping up to be a sequence of nonwhite auteurs whose early work has since attracted one of the biggest Hollywood studios.
Next up is Ryan Coogler. The director and Oakland, California, native entered the industry in 2013 with Fruitvale Station, his shattering portrait of police-shooting victim Oscar Grant. He followed Fruitvale with Creed, the acclaimed Rocky sequel that recast white America's favorite underdog boxing franchise as a thrilling tearjerker about a black man chasing the legacy of his dead father, Rocky's nemesis Apollo Creed. In February, Coogler will unleash Black Panther onto the world — one of the most anticipated Marvel films yet and a landmark in the company's mixed efforts to diversify its fictional universe.
Waititi walked a similar path, earning global acclaim with his films Boy and Hunt for the Wilderpeople, both of which dealt with the construction of family and the urban Maori experience while delivering genuine laughs. Ragnarok departs from Waititi's typical cinematic milieu in that it doesn't concern indigenous life, but his touch is still apparent. It's rare for today's conversations about diversity in Hollywood to explore the subtle changes that occur when someone like Waititi takes control of a blockbuster like Thor.
These shifts include prioritizing indigenous talent behind the camera. Waititi made it a point to hire crew members who were aboriginal Australian, where he filmed much of the movie.
"You'll never look at my films and crew and be able to say, you need more brown people," Waititi told GQ in an interview published Friday.
"It's a responsibility you have to the indigenous people," Waititi told BuzzFeed in August. "You're coming to a country and you're bringing money into the economy and creating jobs, but I think you have an even bigger responsibility to look after the people [who] have less opportunities."
This ethos was reflected across the culture of Ragnarok's set. Marvel hired an aboriginal-owned company to supply the cast and crew with water, according to BuzzFeed, and Waititi had representatives from the local Yugambeh tribe perform a welcome ceremony at the start of filming.
Indigenous actors — like Waititi himself, who voices Korg, and Hunt for the Wilderpeople veteran Rachel House — also have bit parts in the film. They may not be front and center, but these are real, paying industry jobs given to indigenous people who may not have had the opportunity had an indigenous director not prioritized their work. It's hard to understand the depth of inequity in Hollywood without recognizing the significance of these subtle decisions.
And most importantly for the film's bottom line, these choices yielded optimal results. Ragnarok is making money. Critics are praising it effusively. It may singlehandedly convince audiences that Hemsworth has the charisma and charm to be a legitimate Hollywood leading man. It reminded us why we love Jeff Goldblum. It featured two uncharacteristically flashy and scene-stealing roles for women: Cate Blanchett as Hela and, especially, Tessa Thompson as a fallen Valkyrie. All of this while rescuing a Marvel property that had always seemed more obligatory than fun. Now Thor is suddenly a destination franchise — and it has Waititi to thank for it.