Democrat Phil Murphy elected governor of New Jersey, replacing Chris Christie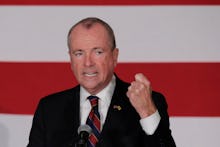 Democrat Phil Murphy was elected the next governor of New Jersey on Tuesday, routing Republican nominee Kim Guadagno, according to an NBC News projection.
Murphy will replace Chris Christie, the term-limited Republican who will leave office as both the least popular governor in the country and in New Jersey history.
While Christie wasn't on the ballot, he was a key focus of the contest. His unpopularity, even among Republican voters, weighed on Guadagno, who has served as Christie's lieutenant governor since he took office in 2010 — dooming her chances from the start.
On Tuesday, Christie said that vote was not a referendum on his chaotic eight-year tenure, the second half of which was mired in the lengthy "Bridgegate" scandal.
Still, Guadagno tried to coalesce the GOP base by running a Trump-esque, anti-immigration campaign. She tried to weaponize Murphy's support for undocumented immigrants against him, running a misleading attack ad claiming Murphy supported "deranged murderers."
But that message didn't work in New Jersey.