Report: "Billionaire" Commerce Secretary Wilbur Ross has been lying, isn't actually a billionaire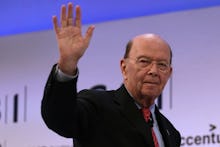 This week isn't even halfway over, but it's safe to say that Commerce Secretary Wilbur Ross is having the worst one in Washington, D.C.
In November 2016, President-elect Donald Trump's decision to nominate Ross — a banker known for revamping failed companies — to his cabinet unleashed a firestorm of scrutiny from the media. Many saw the nomination as a potential sign that the new president-elect would waiver in his repeated campaign promise to "drain the swamp."
At the time, Mic noted that Ross' net worth — then believed to be in the billions — was the equivalent of "literally 10 times as much as former President George W. Bush's entire Cabinet."
But on Tuesday morning, Forbes published an article claiming that Ross isn't a billionaire at all.
The report is also something of a mea culpa for the magazine: It begins by noting that Forbes had played a role in Ross' myth making, allowing him to list his net worth at $2.9 billion in 2016 on their Forbes 400 power ranking — despite the commerce secretary's protestation that that number should be about $800 million higher.
But as Forbes' Dan Alexander carried out his investigation into Ross' finances, which included a deep dive into the disclosure forms Ross filed following his nomination to Trump's cabinet, he found that Ross had "less than $700 million in assets."
Though Ross attributed the $2 billion discrepancy to family trusts, he declined to provide documentation of those trusts to Forbes.
Alexander writes:
So began the mystery of Wilbur Ross' missing $2 billion. And after one month of digging, 'Forbes' is confident it has found the answer: That money never existed. It seems clear that Ross lied to us, the latest in an apparent sequence of fibs, exaggerations, omissions, fabrications and whoppers that have been going on with 'Forbes' since 2004. In addition to just padding his ego, Ross' machinations helped bolster his standing in a way that translated into business opportunities.
The Forbes story is the second chapter in Ross' terrible, horrible, no-good, very bad week. On Sunday, the Paradise Papers — an investigation of a cache of millions of leaked documents carried out by a coalition of 381 journalists — showed that the commerce secretary had financial links to Russian President Vladimir Putin's family, which he did not disclose following his nomination to Trump's cabinet.
"[Ross has] lied to a lot of people," a former colleague of the commerce secretary told Forbes.