Ralph Northam elected governor of Virginia in anti-Trump wave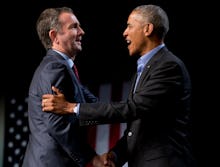 Democrat Ralph Northam will be the next governor of Virginia, after he defeated Republican nominee Ed Gillespie on Tuesday in what was the most closely watched race in Tuesday's elections.
Northam, who is currently serving as lieutenant governor of Virginia, defeated Gillespie, 53% to 45%, with 95% of precincts reporting, according to the Associated Press.
Northam's win is much larger than most public polls suggested, and was large enough to help Democrats pick up a number of seats in the House of Delegates, an outcome even the most optimistic of Democrats weren't expecting.
Northam's win comes as a sigh of relief to Democrats, who are looking to counter the rise of President Donald Trump with significant wins as they gear up for the 2018 midterms.
Polling had showed a tightening race in the final days of the contest, giving some Democrats heartburn after Trump's shock victory one year ago.
Democrats worried that a loss in the state would both dampen Democratic enthusiasm going into 2018, as well as embolden the kind of race-baiting, anti-immigration campaign that Gillespie ran.
Gillespie ran a number of number of campaign ads seeking to tie Northam to violent Hispanic criminals and warning that voting for the Democrat would lead to more violent immigrants in the state. It's the same message Trump has been pushing.
Gillespie also ran ads vowing to protect Confederate monuments — even in Virginia, where peaceful protesters were run over by a car driven by a suspected white supremacist in the Virginia city of Charlottesville in August, resulting in the killing of one woman, Heather Heyer.
These divisive messages, however, could not carry Gillespie to victory.
Exit polling showed that health care was the biggest issue for voters in the race — a sign that the GOP effort to repeal the Affordable Care Act could be a problem for other Republicans running in 2018.
Democrats will also point to their win as a sign that Trump's anti-immigrant, pro-Confederate monument positions won't be successful for other Republicans who use them to gain traction in swing states.
Trump, for his part, sought to distance himself from Gillespie's loss, despite the fact he had endorsed Gillespie's campaign.
"Ed Gillespie worked hard but did not embrace me or what I stand for," Trump tweeted. "Don't forget, Republicans won 4 out of 4 House seats, and with the economy doing record numbers, we will continue to win, even bigger than before!"
Nov. 7, 2017 9:19 p.m.: This article has been updated