5 elections to watch on Tuesday that will show how Americans feel about Donald Trump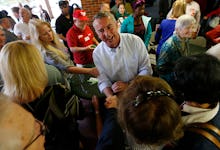 Welcome to Mic's daily read on Donald Trump's America. Want to receive this as a daily email in your inbox? Subscribe here.
Tuesday's dispatch: What to watch in today's elections
One year after Donald Trump stunned the world and won the 2016 U.S. presidential election, Democrats have their best chance so far to rebuke his contentious agenda.
Voters in Virginia will choose between a moderate Democrat and a Trump-backed Republican. In New Jersey, voters are expected to elect a Democrat to replace embattled Republican Gov. Chris Christie, who was once seen as a top national GOP figure. In Washington state, a state Senate race will determine whether Democrats gain control. And in Maine, voters will likely rebuke their conservative governor and vote to expand Medicaid via ballot initiative.
Here are five races to watch in Tuesday's elections.
Northam or Gillespie? The key story to watch Tuesday night will be whether Virginia elects Democrat Ralph Northam, the current lieutenant governor, or former Republican National Committee chairman Ed Gillespie — who lost Virginia's U.S. Senate race in 2014 by less than 1%.
Trump has pushed for Gillespie on Twitter, but the candidate is keeping his distance from the president. Instead, he's run race-baiting ads that accuse Northam of supporting sanctuary cities and adopting policies that have increased crime. Northam, who has not received backing from progressives like Sen. Bernie Sanders, has appeared on the defensive with Gillespie for weeks as his polling lead has fallen.
If Northam wins, Democrats will tout his victory as a rebuke of Trumpism. However, it's a race Northam always clearly should have won. No Republican has won statewide in Virginia since 2009, and Hillary Clinton won the state by 5 points. If Northam loses, watch for prognostication from Democrats nervous that their anti-Trump message isn't resonating with voters.
Down ballot signs: A number of Democratic and progressive groups have poured millions of dollars into not only winning Virginia's governor's race, but cutting into the 17-seat GOP advantage in its House of Delegates. In interviews ahead of the election, organizers told Mic flipping five or more seats would signal a grassroots wave against the GOP.
Virginia's legislative elections are seen as a precursor to the 2018 midterms. Republicans hold the governor's office and state legislature in 26 states. Going into Tuesday, the GOP controls 33 state legislatures, including Virginia's. Democrats are not only looking for a message that can strongly counter Trump's, they're also testing what could work to remove Republicans from power in Congress and state legislatures in 2018.
A Democratic New Jersey: With control of the state legislature, Democratic candidate for governor Phil Murphy should give Democrats control of New Jersey, with his likely win Tuesday. A former Goldman Sachs executive and ambassador to Germany during Barack Obama's first term, Murphy would likely use his position between Washington and New York to grow his profile ahead of the 2020 election.
A Democratic Washington? If Democrats capture the Washington state Senate Tuesday, they'll hold outright control of the West Coast. That will raise the profile of Washington Gov. Jay Inslee, and give "left coast liberals" further runway to implement an anti-Trump agenda.
Medicaid in Maine: Gov. Paul LePage, a Trump fan, declined Medicaid expansion. Maine's moderate Republican senator, Susan Collins, has signaled an openness to expanding the program. On Tuesday, voters appear likely to approve Medicaid expansion through ballot initiative — a rebuke of their governor, Trump and Washington Republicans who have proposed gutting the program.
The quick version: If the Democrats essentially sweep on Tuesday — as in, if Northam and Murphy win, Democrats pick up at least five House seats in Virginia, the party takes over Washington state and Medicaid expansion passes in Maine — Republicans will feel a rebuke nationwide.
If Northam loses in Virginia, that narrative will drive the night — regardless of whatever Democrats accomplish elsewhere.
Today's question: Are you voting on Tuesday? If so, send me a picture of your "I Voted" sticker and I'll include it in NTA on Wednesday. Send your pictures to trumpsamerica@mic.com.
Tuesday in Trump's America:
Devin Patrick Kelley, the Texas shooting suspect, shouldn't have been able to buy a gun. The Air Force admitted it did not properly follow laws intended to prevent domestic abusers from buying firearms. That lapse allowed the 26-year-old Kelley to reportedly kill 26 people and injure dozens more on Sunday during a Baptist church service in rural Texas — including eight members of one family.
Here's why domestic violence is such a strong predictor of mass murder.
Kelley killed 4% of the town's population. Texas Attorney General Ken Paxton called for more guns in churches after the shooting. Right-wing media linked Kelley to the antifa movement, with no proof. And Trump blamed the shooting on mental health. But earlier this year, he had made it easier for the mentally ill to buy guns.
From Politico: "GOP shrugs off gun control after latest mass shooting."
NBC News/Wall Street Journal poll: 41% of voters in "Trump counties" say the country is worse off than a year ago. Only 32% of people living in counties Trump won in 2016 say the United States is better off, the poll found.
In his first day in South Korea, Trump called for negotiation with North Korea. He struck a noticeably calmer tone toward Kim Jong Un. In the past, he has warned of "fire and fury" raining down on North Korea.
"Harvey Weinstein's army of spies." The New Yorker looks at how the Hollywood producer accused of sexual assault spent a year trying to bring down those working to expose his activities.
TPS revoked. The Trump administration announced Temporary Protected Status will end in January 2019 for more than 5,000 people from Nicaragua living in the United States. Meanwhile, 86,000 Hondurans had their status extended for six months, a legal protection that lets immigrants from unstable countries remain in the U.S.
Tech poll. Americans who followed last week's hearings with tech companies thought both sides were worse off for it. Confidence is lower in tech companies, but it's also lower in the ability of lawmakers to address foreign election interference.
Gardening dispute? Sen. Rand Paul (R-Ky.) sustained bruised lungs and five broken ribs after he was tackled by his neighbor over the weekend. Neighbors told the New York Times the incident occurred because of a landscaping dispute.
Tax reform delay? It's too early to know for sure, but the Wall Street Journal reported disagreements among Republicans could delay passage of the GOP tax reform bill until next year.
Today's MicBite:
Gun violence costs America hundreds of billions of dollars each year. Here's the breakdown. Tap or click the video below to watch.