Report: A PI posed as a women's rights activist to spy on Rose McGowan. Weinstein paid for it.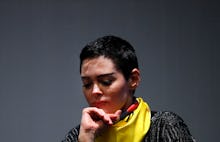 In May, women's rights activist Diana Filip reached out to actress Rose McGowan and insisted they meet. Filip told McGowan that she was spearheading an initiative to fight for women's rights in the workplace, and she needed the actress' help to speak at a gala publicizing the effort. The two women talked about women's empowerment over ice cream and long walks along the Venice Beach boardwalk. Filip told McGowan they had a lot in common. McGowan described Filip as "very kind."
There was just one problem: Diana Filip didn't exist. According to the New Yorker, "Diana Filip" was the alias of a former Israeli Defense Forces officer paid by Hollywood producer Harvey Weinstein to spy on McGowan, who had accused him of raping her.
The report, "Harvey Weinstein's Army of Spies," written by journalist Ronan Farrow and published Monday evening, exposes the extreme lengths Weinstein took in an alleged effort to surveil and intimidate the women accusing him into silence.
At the center of the report is Black Cube, a shadowy "creative intelligence" firm that boasts that the ex-Mossad agents and Israeli officers on its staff are "highly experienced and trained in Israel's elite military and governmental intelligence units."
According to the report, "Diana Filip," to whom Black Cube's internal documents refer as "Anna," was one such agent involved in the effort to keep tabs on Weinstein's alleged victims who were going to the press.
When Farrow showed McGowan a photograph of "Anna," she confirmed right away it was the woman with whom she had been commiserating.
"Oh my God," McGowan exclaimed upon seeing her. "Diana Filip. No fucking way."
McGowan wasn't the only person with whom "Anna" attempted to meet. According to the New Yorker, "Anna" reached out to Jodi Kantor, who, along with Megan Twohey, first surfaced the accusations against Weinstein in an Oct. 5 New York Times report.
The ex-IDF agent also met with New York Times' Ben Wallace, who was also working on a Weinstein exposé at the time. Over the course of two meetings, "Anna" would identify herself as a victim of the Hollywood producer in an attempt to glean information from Wallace.
But her ruse didn't work: Wallace told the New Yorker that when "Anna" recalled her abuse, it "seemed like soap-opera acting." She also requested sitting close to him, which led Wallace to suspect their conversations were being secretly recorded.
According to the New Yorker, David Boies, a high-profile attorney working for Weinstein, personally signed the contract with Black Cube for $600,000. The contract said that if the intelligence firm succeeded in obtaining information that would prevent any publication from publishing a story about Weinstein and his accusers, it would receive $300,000 more.