'Gossip Girl' actor Ed Westwick accused of rape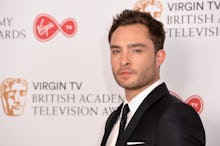 Actress Kristina Cohen has accused former Gossip Girl actor Ed Westwick of raping her three years ago after she visited his home with the man she had been dating at the time.
In a Facebook post, Cohen stated that she and her then-boyfriend — a man she refers to only as "a producer" — went to Westwick's house for dinner, where the actor immediately made her uncomfortable by suggesting that "we should all fuck." After saying she was tired as an excuse to go home, Cohen wrote that the producer encouraged her to stay "just another 20 more minutes to smooth everything over" while Westwick "suggested I nap in the guest bedroom."
That, Cohen said, is when Westwick forced himself on her. According to her post:
So I went and laid down in the guest room where I eventually fell asleep, I was woken up abruptly by Ed on top of me, his fingers entering my body. I told him to stop, but he was strong. I fought him off as hard as I could but he grabbed my face in his hands, shaking me, telling me he wanted to fuck me. I was paralyzed, terrified. I couldn't speak, I could no longer move. He held me down and raped me.
Cohen went on to say that she's "sickened to see men like Ed respected in such a public way," and noted that she's spent years grappling with feelings of guilt stemming from the incident.
"How does this end? Men like Ed using fame and power to rape and intimidate but then continue through the world collecting accolades," she wrote.
Cohen joins a growing list of women who have spoken out about the alleged abuse they've experienced at the hands of men in Hollywood, in the wake of explosive allegations lodged against the disgraced producer Harvey Weinstein.
For her part, Cohen concluded her post by noting that she hopes coming forward "will help others to know that they are not alone, that they are not to blame and it is not their fault."
"I hope that my stories and the stories of others help to reset and realign the toxic environments and power imbalances that have created these monsters," she wrote.