These are the victims of the Texas church shooting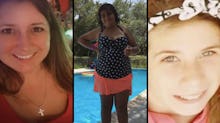 At least 26 people were killed Sunday when a gunman opened fire at the First Baptist Church in Sutherland Springs, Texas. The town is small, and there were countless overlapping connections within the church community — including brothers, sisters, spouses and former classmates.
Eight of the victims were members of the same family, CNN reported Tuesday. Authorities have not yet released a list of the victims' identities, but friends and family have confirmed the names and details of some of the people who were killed.
Joann Ward and her daughters, Brooke Ward and Emily Garcia
Joann Ward's sister-in-law, Leslie Ward, confirmed to ABC News that Joann Ward and her daughters, Brooke Ward and Emily Garcia, were killed Sunday. Joann Ward's brother, Michael Ward, told the Dallas Morning News the children were 5 years old and 7 years old, respectively. Joann Ward's 5-year-old son, Ryland Ward, was shot five times and was flown from Sutherland Springs to University Hospital in San Antonio.
Robert and Shani Corrigan
U.S. Air Force veteran Robert Corrigan and his wife, Shani Corrigan, were both killed in Sunday's shooting, the Arizona Republic reported. Renee Haley, director of Veterans' Services for Clare County, Michigan, told the Arizona Republic in a statement that the Corrigans were high-school sweethearts from the town of Harrison, Michigan.
The couple has two sons, both of whom are active-duty military.
Tara McNulty
Bartender Tara McNulty was killed in Sunday's shooting, and her two children, Hailey and James, were both wounded, the Arizona Republic reported. Kevin Koenen, who owned the bar where McNulty worked, remembered her as a "very kind-hearted person" and a great employee in a Facebook post announcing a benefit in her name.
Annabelle Pomeroy
Fourteen-year-old Annabelle Pomeroy was the youngest daughter of First Baptist Church pastor Frank Pomeroy, who was away in Oklahoma on the day of the shooting. Pomeroy told ABC News his daughter was "one very beautiful, special child."
Lula White
White, a frequent volunteer at First Baptist Church, was the grandmother-in-law of suspected shooter Devin Patrick Kelley, CNN reported Tuesday. Her sister, Mary Mishler Clyburn, told the New York Daily News on Monday that White, 71, was "a wonderful, caring person — a God-loving person."
"She loved the people in her church. They were all her best friends," Clyburn said. "I miss her badly already. We texted every day. We loved each other to the moon and back."
Haley Krueger
Haley Krueger, 16, was also killed in Sunday's shooting, her mother, Charlene Uhl, told People on Monday. Uhl described her teenage daughter as a dedicated member of the church, who regularly attended services and showed up early Sunday morning to help prepare breakfast.
"She just loved life and loved everybody she met," Uhl said. "She loved her church. She was always hyper and ready for anything. She wanted to go to school and be a nurse in the NICU. She loved babies. She had two nephews and adored both of them."
Richard and Theresa Rodriguez
Richard and Theresa Rodriguez both attended First Baptist Church, Richard's sister, Evangelina Santos, told Univision, according to the Arizona Republic. Santos said that when she heard there was a shooting at the church, she hoped her brother and his wife were among the wounded, not the dead.
"They told us many were hurt," Santos said. "I was hoping to God that they were among them, that they were only hurt, not dead. But at 11 p.m., they gave us the news."
Eight members of the Holcombe family
As CNN reported Tuesday, eight members of the Holcombe family were killed in the shooting. Bryan Holcombe was serving as the guest pastor at First Baptist Church when he was killed; his wife, Karla Holcombe, was also killed. Bryan and Karla's son, Danny Holcombe, was killed, along with Noah Holcombe, Danny's 17-month-old daughter.
Bryan and Karla's other son, John Holcombe, survived the shooting, but his wife, Crystal Holcombe, and three of her five children, Emily, Megan and Greg Hill, were all killed. Crystal Holcombe was pregnant and her unborn child did not survive.
Sara and Dennis Johnson
Sara Johnson, 68, and her husband, Dennis Johnson, 77, were both killed on Sunday, family members confirmed to the Washington Post.
Dennis Johnson was a veteran of the U.S. Navy Reserves and the Army National Guard, NBC News reported. Relatives told NBC News that Sara Johnson had worked in a church nursery for more than 30 years. The two were longtime members of First Baptist Church and had celebrated their 44th wedding anniversary in July.
Karen and Scott Marshall
Scott Marshall, 58, and his wife Karen, 59, were at First Baptist on Sunday because they were trying out a new church, their family told the Allegheny Tribune Review. It was their first time at the church.
Scott Marshall was retired from the Air Force, and Karen Marshall was retiring from the Air National Guard. The two had met more than 30 years ago while they were both serving, Scott Marshall's father told the Tribune Review.
Keith Braden
Keith Braden, 62, was a regular at First Baptist, his brother Bruce Braden told the Indianapolis Star. He was at the church on Sunday with his wife, Debbie, who was shot three times, and his 6-year-old granddaughter, who was also shot, Bruce Braden said.
Keith Braden worked at a grocery store, his brother said. He and his wife raised three children, now adults.
Peggy Lynn Warden
Peggy Lynn Warden, 56, volunteered as a teacher at first Baptist, local outlet WOAI reported. She was at church on Sunday with her 18-year-old grandson Zachary Poston. According to family who spoke to WOAI, Warden died trying to protect her grandson from the bullets.
Nov. 8, 2017, 3:09 p.m.: This story has been updated.