Disney ends blacklist of 'Los Angeles Times' after backlash from news outlets, film critics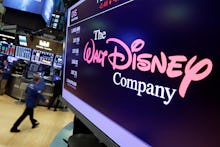 Walt Disney Co. has ended its short-lived ban on the Los Angeles Times from attending press screenings of its films after several news organizations and film critics associations aggressively pushed back.
"We've had productive discussions with the newly installed leadership at the Los Angeles Times regarding our specific concerns, and as a result, we've agreed to restore access to advance screenings for their film critics," Disney said in a statement to the New York Times.
News outlets like the Times, the Washington Post and A.V. Club said Monday and Tuesday that they would not attend press screenings of films to deliver early reviews until Disney reinstated press access to the Los Angeles Times.
The backlash began after the Los Angeles Times said in an editor's note Friday that Walt Disney Co. studios "declined to offer ... advance screenings" to the outlet because of its reporting on the company's business ties with the city of Anaheim, California, which is home to the Disneyland Resort.
Disney had not pointed to any factual inaccuracies in the Los AngelesTimes' stories to which it objected, but in a statement, Disney accused the Times of a "complete disregard for basic journalistic standards" and said that the articles were biased and politically motivated.
On Monday, Post film critic Alyssa Rosenberg announced that she would not attend advance screenings of Disney films, nor films from subsidiaries Lucasfilm and Marvel, "for the foreseeable future."
"This pains me," Rosenberg wrote. "… But as long as Disney is blocking the critics from the Los Angeles Times from press screenings, I can't in good conscience attend similar showings or write reviews in advance."
The decision was Rosenberg's alone, she said; the rest of the Post had "not taken a decision to participate in any boycott."
After Rosenberg's announcement, the A.V. Club said it would "follow Rosenberg's lead" effective immediately.
"We will refrain from attending any press screenings of Disney movies, at least until the company rescinds its ban on the Los Angeles Times," the publication wrote in a post on its website. "Like Rosenberg, we will still be writing about Disney releases, like the upcoming Coco, Black Panther and Star Wars: The Last Jedi. But we'll just be seeing the films the way everyone else does — by buying a ticket to a public screening on opening weekend — then writing and publishing our reviews a little later than normal."
Online culture magazine Flavorwire took it further, saying it would no longer cover any Disney, Lucasfilm or Marvel releases until the ban was lifted.
"To penalize a major newspaper — and one that boasts some of the finest critics and entertainment journalists in the country — over a trio of unflattering (and, it should be noted, impeccably and exhaustively reported) stories is petty and small," Flavorwire wrote in a post explaining its decision. "And for other outlets to look on, or look away, as a giant multimedia corporation doles out that punishment is unacceptable."
On Tuesday afternoon, the New York Times announced that it, too, would no longer send reporters to advance press screenings of Disney films until the Los Angeles Times had its press access restored.
"A powerful company punishing a news organization for a story they do not like is meant to have a chilling effect," a spokesperson for the New York Times said in a statement. "This is a dangerous precedent and not at all in the public interest."
Several film critic associations, including the National Society of Film Critics, agreed not to consider Disney films for awards until "said blackout is publicly rescinded."
"It is admittedly extraordinary for a critics' group, let alone four critics' groups, to take any action that might penalize film artists for decisions beyond their control," a joint statement from four film critics associations read. "But Disney brought forth this action when it chose to punish the Times' journalists rather than express its disagreement with a business story via ongoing public discussion. Disney's response should gravely concern all who believe in the importance of a free press, artists included."
Disney reversed its decision on Tuesday afternoon about an hour after the New York Times said it would no longer review its films in advance.
Nov. 7, 2017, 3:50 p.m.: This story has been updated.