Donald Trump Jr. twice wrongly told his Twitter followers that the Virginia election is Wednesday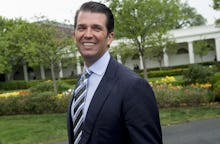 If you are a voter in Virginia, Donald Trump Jr.'s tweets Tuesday may be making your head spin with confusion.
Twice on Tuesday, the eldest son of President Donald Trump incorrectly indicated to his more than 2.2 million Twitter followers that the critical and very close Virginia gubernatorial election is "tomorrow."
If his followers in Virginia believed his tweets, they would be showing up to the polls a day after the election is likely to be called for either Republican Ed Gillespie or Democrat Ralph Northam.
"Let's take @EdWGillespie across the finish line tomorrow!" Trump Jr. tweeted at 8:02 a.m. Eastern on Tuesday, two hours after polls had already opened. "Virginia: get out and vote for Ed & entire @GOP ticket."
Later, at 11:37 a.m. — nearly six hours after polls opened — Trump Jr. again seemingly told his followers to vote on the wrong day.
"Virginia, the future of the commonwealth is at stake tomorrow," Trump Jr. tweeted. "Find your polling place at http://vote.gop to vote Ed for #VAGov."
Oddly, that second incorrect tweet was sent nearly an hour after Trump Jr. correctly informed his followers that the election was on Tuesday.
Polls in Virginia close at 7 p.m. Eastern on Tuesday.