Finding hope in Trump's America may be too lofty of a goal, but let's not forget our resilience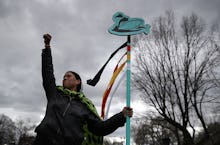 On Nov. 8, 2016, I wrote a 2,000-word essay about the historic, albeit fraught, election involving the first female candidate for president. As I sent the piece to my editor and ran off to watch history be made at the Hillary Clinton campaign's party at New York's Javits Center, it didn't seem to be a possibility that Donald Trump could be elected. After the results came in, I stumbled back to the office, bleary-eyed. My essay was set aside, and we had to rewrite everything. Trump won.
Like many around the world, I was shocked. Trump's win didn't feel like a typical electoral outcome. His campaign eschewed the very values that are fundamental to a free and just society. He had a contentious relationship with the press, a campaign built on a racist lie about former president Barack Obama, openly discussed banning Muslims from entering the U.S. (as though discriminating against an entire class of people was a legitimate policy position) and suggested building a wall to keep "rapists and thugs" in Mexico.
Shortly after the election, I turned the unpublished essay I delivered on Election Day into a book, Nasty Women: Feminism, Resistance and Revolution in Trump's America. In the book, my co-editor Kate Harding and I curated a diverse set of voices on feminism and identity to talk about the political implications of that night for different groups of people — meditating on our fears, our hopes and planning for what was to come. We were not alone, and the language of the resistance permeated the country: The Women's March the day after Trump's inauguration was likely the largest demonstration in U.S. history. After that, there was the protest against Trump's Muslim ban outside airports across the U.S. Then the women's strike and the May Day labor rights protests came after that.
But every day there is something new from the Trump administration to grapple with: A hard-earned right gets stripped away, or a new allegation of corruption and collusion makes it way into headlines.
On the Nasty Women book tour, Harding and I have been asked a version of the same question over and over: How do you find hope when it feels like everything is going to shit?
"We survived Andrew Jackson, we can survive Trump." — Mary Kathryn Nagle
As I grappled with the question of hope and finding resilience in the Trump era, I reached out to Mary Kathryn Nagle, a lawyer, playwright and member of the Cherokee Nation who wrote a gutting essay for Nasty Women about the legacy of the indigenous community in the United States. She writes, pointedly, "No matter who lives in the White House, since the dawn of the United States, our survival — as native women — has depended on our ability to counter the dehumanization of our people and rehumanize ourselves in a United States that says we should no longer exist."
Nagle reminds readers that previous leaders have used similar rhetoric as Trump's to gain power. She writes that in the 1830s President Andrew Jackson "rose to the pinnacle of power" based on "a promise of a better economic times for white Americans ... premised on the destruction" of indigenous people. In 1830, Jackson signed the Indian Removal Act which led the way for the Trail of Tears, the forced displacement of thousands of native people to the west of the Mississippi. Trump has been compared to Jackson, and seems to personally be obsessed with him.
Nagle says some of her direct ancestors didn't survive the Jackson administration and the years that proceeded it — her forefathers, she told me, were killed for being seen as traitors after signing the Treaty of New Echota — but other members of her family did.
She's here today to say: "We survived Andrew Jackson, we can survive Trump."
Nagle cautions one shouldn't understate the impact of the current political climate, which she calls "traumatizing," especially as many tribes continue to fight for land — most famously in Standing Rock — as well as endure high rates of poverty, drug addiction, incarceration and sexual assault.
"Today, people may not say openly that they want to eradicate tribal populations" but they still are working to undo many of the protections that "tribes need to survive," Nagle said.
Reflecting on the first year of Trump's presidency, it's hard not to be struck by the gravity of his tenure. Despite policies introduced in his first 100 days (and frankly first year) being historically ineffective, his anti-progressive agenda has made some headway. With the swipe of a pen, Trump granted an easement to move forward with completing the Dakota Access pipeline. He has proposed several versions of a travel ban impacting people from majority-Muslim countries and beyond. He banned transgender soldiers from serving in the military (though this order has been temporarily blocked). And in June he withdrew from the Paris Agreement — defying the international standards around effective solutions to climate change. He also walked back progress on several critical women's rights issues by extending the Global Gag rule and appointing Secretary of Education Betsy DeVos (who rolled back Title IX sexual assault guidelines). He has also rolled back access to birth control and backed a 20-week ban on abortion that passed the House in October.
Outside of such policy positions, there has been the emotional impact of knowing 53% of white women and 63% of white men voted for Trump despite his having been caught on tape in 2005 bragging about sexually assaulting women, and in spite of his unapologetic race-baiting. During his presidency we are seeing the rise of white supremacist hate groups, some of which have organized in public with violent and deadly consequences.
Perhaps hope is too lofty a goal in the current political climate. Or too lofty a goal as we consider that our country was founded on the unpaid labor of slavery and the attempted genocide of Native Americans. Perhaps hope is too lofty as we look at the normalcy with which women in the United States are sexually assaulted and harassed, the frightening routinization of mass shootings and our ritualistic mourning with no solution. Or when we are denying citizenship rights to migrants, or equal rights to people because of their racial, sexual or gender identity. And perhaps hope is too lofty when access to life, liberty and the pursuit of happiness has simply become unattainable, because we can't afford it.
"We are being victimized, it's easy to get caught in the depressive cycle," Nagle said. "But then I have to remind myself that there was a moment of time when my grandfathers did not know if their actions would actually save the Cherokee nation from eradication."
On Tuesday, voters seemingly sent a message to the White House in key legislative districts in a series of tight races: In Virginia, Democrat Ralph Northam won the governorship. Virginia also elected the first out transgender person to state legislature, Danica Roem. In New Jersey, Democrat Philip Murphy beat Republican Kim Guadagno and will be replacing Gov. Chris Christie. Philadelphia elected a new district attorney who ran a campaign on criminal justice reform. And in Minneapolis, the first openly trans woman of color, Andrea Jenkins, won a seat on the city council.
Hope may indeed be a lofty goal, but Tuesday's election results certainly point to our resilience.