Republican congressman in key swing district says he will retire ahead of 2018 midterms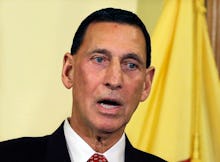 As New Jersey voters head to the polls to cast votes in the state's 2017 election, lawmakers are simultaneously making big moves ahead of next year's midterms.
On Tuesday, Rep. Frank LoBiondo (R-N.J.) announced he would not seek re-election in 2018, opening up a key swing district for Democrats looking to try and take back the House majority.
LoBiondo has represented New Jersey's 2nd congressional district since winning his seat in the Republican wave election of 1994. Since, the area he represents has become a key swing district in presidential elections.
Since the district was redrawn after the 2010 census, voters chose Barack Obama in 2012 and Donald Trump in 2016.
In a tweet just after the announcement, the New York Times' Nate Cohn said that LoBiondo's retirement was "probably the single most valuable retirement for Democrats" ahead of 2018.
LoBiondo's decision to leave Congress comes on the heels of several other high profile Republican departures, including Sens. Jeff Flake (R-Ariz.), and Bob Corker (R-Tenn.). LoBiondo will be the 13th Republican House member to either announce their retirement or resign. In addition, five more Republican House members will step down to run for a different office.