Election 2017: Democrats sweep gubernatorial election in Virginia, New Jersey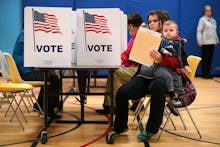 9:11 p.m.: That's all, folks
The major races in Virginia and New Jersey have been called, and Democrats pulled off a historic sweep that should make Republicans nervous.
Democrat Ralph Northam beat Republican Ed Gillespie in Virginia, ushering in a wave that could even carry Democrats to a majority in the state House — something no one predicted was possible when the night began.
And Democrat Phil Murphy also defeated Republican Kim Guadagno in New Jersey. He'll succeed outgoing Republican Gov. Chris Christie, who will leave office as one of the most unpopular governors in the country.
Election analysts were shocked by how well Democrats performed.
Many conclude that the results are an indicator that Democrats could be riding a wave into the 2018 midterm elections — in which Republicans will be defending both their House and Senate majorities.
Exit polling also suggests that the Republican effort to repeal the Affordable Care Act could be a big problem for the party in the 2018 midterms.
Health care was the most important issue for voters in the Virginia governor's race, according to exit polling. So expect to see a big Democratic focus on that issue in future elections.
Mic will have more analysis on the evening's events tomorrow.
8:46 p.m.: Trump tries to deflect blame
President Donald Trump wants you to know that Republican Ed Gillespie's loss in Virginia wasn't his fault, using the new 280-character tweet limit to make the statement.
"Ed Gillespie worked hard but did not embrace me or what I stand for," Trump tweeted. "Don't forget, Republicans won 4 out of 4 House seats, and with the economy doing record numbers, we will continue to win, even bigger than before!"
In fact, Gillespie did embrace Trump, running on a Trump-like platform against sanctuary cities and pro Confederate monuments.
And while Trump didn't campaign in the state for Gillespie, he used his Twitter platform to push Gillespie's candidacy.
Trump's attempt to distance himself from Gillespie's loss doesn't erase the fact that Trump's unpopularity was a factor in Virginia.
8:28 p.m.: A bad night for Republicans
President Donald Trump loomed over the high stakes gubernatorial elections in Virginia and New Jersey — and that was a very bad thing for Republicans.
Democrats swept both gubernatorial mansions in those states, and Democrats look to be on a path to win a number of state House seats in Virginia in what's looking like a massive Democratic wave in the state.
The results are even better than Democrats were expecting, with Democrat Ralph Northam outperforming expectations and carrying with him Democratic candidates in the state legislature.
That includes Democrat Danica Roem, who will be the first transgender state legislator in the country. Roem beat a longtime Republican legislator who wrote anti-transgender policies.
Northam led Republican Ed Gillespie by a 5-point margin, with 70% of precincts reporting. That's higher than the 3.3% lead Northam had going into the night, according to the RealClearPolitics average.
The results should give Republicans anxiety heading into the 2018 midterms.
8:12 p.m.: Democrats sweep the gubernatorial elections in Virginia, New Jersey
It's an early election night.
Democrats have won both gubernatorial elections in Virginia and New Jersey, according to NBC News.
Polls in Virginia seemed to underestimate Democrat Ralph Northam, who is beating Republican Ed Gillespie by a larger margin than the polling average suggested.
In New Jersey, networks called the race for Democrat Phil Murphy as soon as the polls closed, suggesting he trounced his GOP opponent Kim Guadagno.
8 p.m.: Polls are now closed in New Jersey
As we await a call in Virginia, we can now report that polls have closed in the New Jersey governor's race.
Democrat Phil Murphy led in the polls prior to the race, and is expected to win easily over his GOP opponent Kim Guadagno.
As for Virginia, things are looking very, very good for Democrat Ralph Northam.
Election analysts say we may have a call in that race soon.
7:43 p.m.: Results look good for Democrat Ralph Northam
It's been nearly an hour since polls closed in Virginia, and things are looking good for Northam.
Republican Ed Gillespie is under performing the GOP candidate from the 2013 gubernatorial election in the state. That year, the Republican candidate lost to current Democratic Gov. Terry McAuliffe.
New York Times election guru Nate Cohn made this bold prediction: "We don't make projections, but honestly we wouldn't be wildly far from calling it," for Northam.
7:33 p.m.: We have early results in Virginia, and the race is close
About 10% of precincts have reported their results, and Republican Ed Gillespie is tied with Democrat Ralph Northam.
Results are coming in quickly, so things may change, but analysts say the early results from bellwether precincts portent good news for Northam.
7:14 p.m.: A look at the exit polls
The polls are closed in Virginia, but no results have been tallied yet.
Instead, we have some exit poll data about the makeup of the electorate.
This data doesn't give a prediction of the final outcome, but it does shed some light on what kind of voters turned out.
The Washington Post compared the exit poll data with the 2016 presidential election in Virginia, which Hillary Clinton won. We'll let you make comparisons for yourself.
7 p.m.: Polls are closed in Virginia
The polls are now closed in the most high-stakes election of the night.
We'll keep you posted as votes roll in to give you context about what the returns are indicating.
6:42 p.m.: What to watch as results come in
Polls close in Virginia in less than 20 minutes, and early results could give a misleading picture about the state of the race.
That's because the more rural, Republican areas of the state report their vote tallies first. So after polls close, Republican Ed Gillespie could have a lead over Democrat Ralph Northam.
Densely populated Northern Virginia, on the other hand, reports later. That's Northam territory, and it could swing the election results back his way.
Some smart election analysts, including the Cook Political Report's Dave Wasserman, have tallied up the vote totals in different pockets of the state they think both candidates need in order to win. You can check out Wasserman's analysis here.
6:30 p.m.: The stakes
Voters across the country headed to the polls on Tuesday for a handful of gubernatorial, state legislative and local elections — marking the first major Election Day since President Donald Trump was elected a year ago.
The most-watched elections are in New Jersey and Virginia, where voters are selecting their next governor.
New Jersey's race appears to be a foregone conclusion, with Democrat Phil Murphy expected to trounce his GOP opponent, Kim Guadagno — as she's tied to outgoing, extremely unpopular Republican Gov. Chris Christie.
But Virginia looks to be a close race, with Democrat Ralph Northam trying to keep the governor's mansion in Democratic hands and bolster enthusiasm for the party heading into the 2018 midterm elections.
Polls show Northam with a 3.3% lead in the RealClearPolitics average.
However after Trump's shocking win in 2016, Democrats are feeling anxious about whether the polling got it right, or if Republican nominee Ed Gillespie will pull off an upset win.