Since taking office, President Donald Trump has become the unlikely savior of the religious right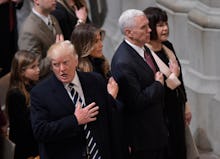 When judged on the fulfillment of core promises he made throughout his campaign, President Donald Trump's first year after his upset victory in the 2016 presidential election has teetered on the brink of complete and utter failure.
Republican efforts to repeal the Affordable Care Act backfired spectacularly and repeatedly, undone by the defection of a moderate fringe in the Republican Party's first unified government in a decade, despite Trump promising he would kill the law his first day in office. His proposed border wall — for which he vowed Mexico would foot the bill — has neither the financial, public nor congressional support it likely needs. His more popular travel ban on six Muslim-majority nations faces an uncertain fate in the Supreme Court. He told his supporters he'd drain the swamp; critics say he filled it to the brim.
That's a lot of losses for a president who famously swore to his base they'd get tired of winning. Those losses in aggregate might explain why his overall approval rating fell to 38% in October — a historic low. For context, the last Republican president had an 88% approval rating by this point in his presidency.
But while those favorables are historically low, and despite his inability to deliver on major campaign promises, Trump's job approval with Republican voters holds strong at 81%.
Regardless of how you feel about Trump's tenure in the White House, his consistently strong support from Republican voters begs the question: Is there a metric by which Trump's presidency has been a success?
With the exception of an overture here and a Mike Pence there, Trump — a two-time divorcee who was caught on tape bragging about grabbing women by their genitals without consent — didn't campaign on religious fundamentalism, despite the fact the evangelical right is widely seen as the Republican party's most dependable voting bloc.
In fact, when it came to the religious right, the otherwise canny Trump seemed to fumble with very basic talking points. He once mistakenly referred to "Second Corinthians" as "two Corinthians." When Iowa evangelicals asked him about his faith in the summer of 2015, he seemed to have no idea what the holy sacrament of communion was, referring to the blood and body of Christ as "my little wine ... and my little cracker." During a February 2016 debate, Trump was the only Republican candidate to defend Planned Parenthood, a nonprofit that has become a bogeyman for the religious anti-abortion movement.
That might be the conservative equivalent of waving the white flag of surrender on a major battle in the so-called American culture war. And yet, exit polls show that on this day in 2016, Trump won white evangelical voters by a larger margin than did former President George W. Bush.
At a dinner with evangelical leaders in September, those present remember the president reportedly said, "The Christians, they know what I'm doing for them, right?"
It's not the rubric by which Trump asked America to judge him, but throughout his presidency, Trump has done well by the religious right. Here are the most significant victories evangelicals have won.
Reproductive rights
Despite his defense of Planned Parenthood on the debate stage, Trump in April signed into law a bill allowing states to withhold Title X funding from abortion providers. In May, a leaked copy of Trump's fiscal budget showed the president planned to slash all federal funding to Planned Parenthood, singling out the health care provider by name.
In October, the House passed a bill that would criminalize abortions after the first 20 weeks of pregnancy. The crime would be punished with fines, the possibility of up to five years in prison or both. Though the Senate version of the bill, drafted by Sen. Lindsey Graham (R-S.C.) does not yet have the votes it needs to pass, it already has 45 cosponsors.
LGBTQ rights
Though Trump promised throughout his campaign that he would fight for LGBTQ rights, his presidency has so far told a different story, one more favorable to religious fundamentalists who, believing homosexuality is a sin, prefer policies that end up punishing members of the LGBTQ communities.
In a July filing, Trump's Department of Justice, helmed by Attorney General Jeff Sessions, argued that Title VII of the Civil Rights Act of 1964 does not protect LGBTQ people from being fired by their employers on the basis of their sexuality, effectively reversing a 2015 ruling from the Equal Employment Opportunity Commission by which former President Barack Obama's Justice Department abided.
On the same day in July, Trump announced on Twitter that he would ban transgender soldiers from serving in the U.S. military, citing burdensome costs associated with their service. With that tweet, the president rolled back yet another Obama-era victory for LGBTQ people.
Though Trump's declaration of the ban was roundly denounced, even by members of his own party, the Daily Beast reported that leaders from the religious right — including Ralph Reed, founder chairman of the Faith & Freedom Coalition, and Tony Perkins, president of the Family Research Council — had been pushing Trump to reinstate the ban on trans active-duty service members as a boon to Christian fundamentalists.
In a statement, Perkins said he "[applauds] President Trump for keeping his promise to return to military priorities — and not continue the social experimentation of the Obama era that has crippled our nation's military."
Months later, in October, Sessions directed the Justice Department to reverse a federal policy protecting transgender workers from discrimination.
Justice Neil Gorsuch
Neil Gorsuch has yet to rule on reproductive rights; nevertheless, Trump's decision to appoint the federal appeals court judge to the Supreme Court was vehemently praised by religious anti-abortion activists.
"President Trump has kept his promise to nominate only pro-life judges to the Supreme Court," Marjorie Dannenfelser, president of the Susan B. Anthony List, said, according to Politico. "Judge Gorsuch is a distinguished jurist with a strong record of protecting life and religious liberty, as evidenced by his opinions in the Hobby Lobby and Little Sisters of the Poor cases, and in his doctoral dissertation in which he wrote that 'human life is fundamentally and inherently valuable.'"
In both cases Dannenfelser cited, Gorsuch argued "the ACA mandate to provide employees with birth control violated the federal Religious Freedom Restoration Act," according to the Chicago Tribune.
That might be why House Speaker Paul Ryan praised him for his "strong commitment to life."
Saving grace
On the eve of the one-year anniversary of Trump's upset victory, Democrats delivered crushing blows to Republicans in Virginia, including the hotly contested gubernatorial race that saw Democratic Lieutenant Governor Ralph Northam trounce Republican Ed Gillespie. Those unexpected victories on Tuesday have been widely interpreted as the electorate's repudiation of Trumpism.
Though it wasn't the focus of Gillespie's failed campaign, which eschewed the requisite overtures to the religious right in favor of a focus on nativism, the former Bush aide and anti-abortion advocate still won with voters who said their opinions on abortions informed their vote.
With political media currently inundating Trump and Republicans with forecasts of doom, the importance of anti-abortion policy to conservatives who showed up to vote in Virginia on Tuesday may provide some guidance to the GOP as it likely seeks to recalibrate its message.
There's only months to go before Trump's proper first anniversary in the White House. As his support from the religious right holds and as conservative voters continue to demonstrate that those issues matter, perhaps the electorate will see Trump double down on his evangelical bona fides. His wins with fundamentalists may not be the victories that matter most to a president focused on wall-building, tax reform and health care repeals, but they're likely his most important victories to date.
Those gains for the religious right may yet be Trump's saving grace.