With his first cover featuring Adwoa Aboah, Edward Enninful signals a big change at British 'Vogue'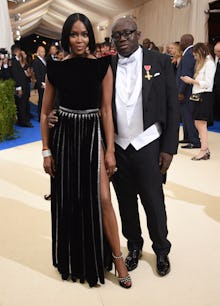 The lip. The eyeshadow. The earrings. The headwrap. This is what the future of British Vogue looks like:
On Tuesday, Edward Enninful, British Vogue's new editor-in-chief, revealed the first cover from his time at the helm of Vogue U.K. It has Adwoa Aboah, a model and activist, shot from the shoulders up, with dramatic blue eyeshadow courtesy of Pat McGrath and her head wrapped in a satin scarf from the new Marc Jacobs collection.
The cover image is as alluring as it is striking, with Steven Meisel photographing both the cover and inside images, which the magazine notes that he hasn't done for any British title in 25 years.
"The December 2017 issue is dedicated to Great Britain and the creatives who represent it at home and abroad," Enninful wrote on his social media accounts.
With this cover, British Vogue has shifted. There's been a lot of talk recently about how white the magazine has been. Enninful is its first black editor-in-chief, and before he formally joined the magazine, Naomi Campbell posted a photograph of the glossy's staff with the caption: "As you can see, the team is overwhelmingly white."
She had hopes that Enninful would be able to change things, writing, "Looking forward to an inclusive and diverse staff now that Edward Enninful is the editor." And already with his first issue, he's made good on that promise.
By choosing Aboah to pose alone on the cover, Enninful cast just the third black model to ever appear alone on a British Vogue cover. Before her, there was Campbell, who now serves as a contributing editor at the magazine, in 2002 and Jourdan Dunn in 2015.
With Enninful in charge, this reputation of British Vogue being overwhelmingly focused on white women is already evaporating away. At the very least, there is a clear new dedication to discussing race and fashion. In addition to the images of Aboah, Vogue U.K. announced that the inside story will have Enninful and Aboah talking about "the importance of diversity in fashion and how they define being black and British in the year 2017."
We predicted that Enninful would shake things up inside this magazine, and judging by the first issue alone, we're very intrigued about what's to come.