Philadelphia's just-elected district attorney may help alter criminal justice reform nationwide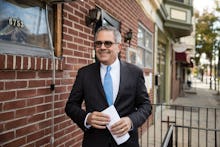 On Tuesday, as eyes were on Virginia's races and the future of the anti-Trump movement, voters in Philadelphia elected a new district attorney who could have a huge impact on the way America's broken criminal justice system functions.
Democratic candidate Larry Krasner won the city's race for district attorney tonight over Republican candidate Beth Grossman after running on a boldly progressive criminal justice reform platform.
But Krasner's election could have impacts far outside the city of brotherly love.
"I believe we will come to a tipping point very soon where we realize that mass incarceration has become destructive and we need to be constructive with what we do with criminal justice," Krasner told Mic in June.
Krasner, a former public defender and civil rights attorney, ran one of the most progressive and pro-reform DA campaigns in U.S. history.
Running in a city with the highest per-capita incarceration rate of any major U.S. metropolitan area, Krasner promised from the beginning of his campaign that he will work to put an end to the era of mass incarceration — even if it means refusing to cooperate with Pennsylvania laws that punish low-level offenders for non-violent drug crimes.
"You can end mass incarceration by refusing to pursue the sentences that upstate [Pennsylvania] legislators want you to pursue, so they can feed their economies by feeding their prisons with poor people from Philadelphia and people of color from Philadelphia," Krasner told Mic in June.
While campaigning, he also vowed to end the system of cash bail, which he says preys on the poor by forcing them to stay in jail if they can't pay hefty fines. He also campaigned on abolishing the system of civil asset forfeiture, wherein police departments seize and then keep or sell property they allege is involved in a crime — often to fund their own operations.
Krasner's election marks a major victory in a growing movement to elect progressive DAs around the country. For decades, DA races in the U.S. have veered towards competitions among career prosecutors to elect the candidate with the most tough-on-crime policies. But that trend has abruptly reversed.
Over the past several years, cities like Chicago and Orlando, Florida, have elected dedicated reformers trying to change the way we think about the role of prosecutors. In Brooklyn, the borough's Democratic primary saw candidates jockeying to prove their reform bona fides, touting their records on ending wrongful convictions and supporting human rights.
"Larry Krasner's win is a major advance in reforming Philadelphia's unusually harsh criminal justice system," said Brandon Evans, Pennsylvania director for the progressive Working Families Party, which endorsed Krasner. "His victory shows a hunger among voters for our kind of candidates and brand of politics. Full throated progressives are engaging and winning."
But even among this emerging era of reform, Krasner stands out as a leader in fighting a broken system.
Though Krasner's victory was all but certain after he bested six other candidates in the deep blue city's crowded Democratic primary in May, he's hardly been a typical candidate.
For decades, the Philadelphia DA's office has been a notoriously tough-on-crime operation. From 1991 to 2010, under the leadership of Democratic DA Lynne Abraham, the office became notorious for seeking the death penalty in criminal cases. Abraham brought 108 death penalty cases, earning her the nickname "the Queen of Death." Asked if she regrets bringing any of those cases, Abraham said that she did not, even though two defendants were eventually exonerated of their crimes.
Lynn's successor, Seth Williams, continued to pursue some death penalty cases up until pleading guilty in a federal bribery case in June.
Now Krasner, who opposes the death penalty, has vowed to change the way criminal cases are brought in the nation's 5th largest city, and could prove to be a model for the future of reform across the country.
Krasner's candidacy had been backed by a slew of criminal justice reform groups who led grassroots campaigns to help Krasner secure his victory.
"District attorneys have the power to alter the daily lives of Black people by choosing to either perpetuate or mitigate the role of racism in the criminal justice system," Rashad Robinson, executive director of Color of Change, said in a statement.
Color of Change was among the first national groups to begin focusing on District attorney races as a way to influence criminal justice.
"Larry Krasner's win today is a victory not only for Philadelphians who want justice and progress for their city," he added, "but a victory for all Americans resisting our nation's regressive criminal justice policies."
Real Justice PAC, a candidate-focused criminal justice reform organization founded by veteran organizer and former Bernie Sanders senior advisor Becky Bond, also backed Krasner's campaign by knocking on doors and making phone calls to connect with Philadelphia voters.
"Larry Krasner's campaign proves that when you give voters a choice between real justice and mass incarceration, the people will not only show up on election day but they will also get involved and volunteer," Bond said in a statement Tuesday night. "Democrats should take note. Candidates like Larry Krasner, who run on a big agenda for change and have a lifelong record to back it up, can ignite the voters the party failed to turn out in 2016 to disastrous results."