First ever out transgender state legislator elected in Virginia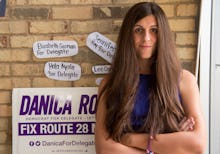 As the nation eagerly awaited the result of Virginia's gubernatorial race, another Virginia politician made LGBTQ history.
Danica Roem was elected to the Virginia House of Delegates, becoming the first ever out transgender state legislator in the country, the Washington Post reported.
Roem defeated Republican incumbent Bob Marshall, whose notorious anti-LGBTQ politics had made him famous across the state. In January, Marshall introduced a bill in the state legislature that would have forced transgender Virginians to use the bathroom of the gender they were assigned at birth.
Roem ran on a platform of LGBTQ rights, better pay, and better roads for Virginia residents living in her district.