The 2017 election brought historic wins for these women of color politicians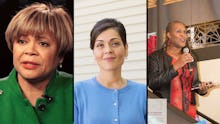 As election results rolled in Tuesday night, voters rejoiced on social media as Asian, black, Latinx and transgender women broke barriers in local and state politics. These elected officials break the traditional white, male, cisgender, married, and privileged mold that is overrepresented in politics.
In 2017, only 105 women served in U.S. Congress, with 21 female senators and 84 women in the House of Representatives, according to the Center for American Women in Politics. Just 38 of those women are of color. In state legislatures, women only make up 24.9% of lawmakers. Of those women, 23.8% are of color.
Take a look at several firsts for women of color that were achieved on Election Day 2017.
Andrea Jenkins became the first trans woman of color elected to the Minneapolis city council on Tuesday. Jenkins will succeed Elizabeth Glidden, who retired from her post, as representative of the city's Ward 8. According to the Southwest Journal, Jenkins served as a city council policy aide for 12 years and has lived in the city's Ward 8 for more than a decade.
"I want to build on the equity work that council member Glidden has initiated and has been working on for the past four years and really bring true equity to the eighth ward and the city of Minneapolis," she told the Southwest Journal in December.
The state of Virginia made several representation milestones on Tuesday night.
Two Latina women were elected to the Virginia House of Representatives for the first time: Democratic delegate-elects Hala Ayala and Elizabeth Guzman. Ayala, a community advocate and single mother of two, will serve Virginia's 51st district. Ayala beat out Republican delegate Richard Anderson, who has held the seat since 2009.
Guzman will represent the state's 31st district. The public administrator and social worker unseated Scott Lingamfelter, who was running for his ninth two-year term. Guzman immigrated from Peru as a young single mother, and eventually worked several jobs to support her oldest daughter and further her education.
Kathy Tran also became the first Asian-American woman to be elected to the Virginia House. Tran will take over as delegate for the 42nd district. Republican Dave Albo, who held the seat since 1994, announced in April that he was not seeking re-election. Tran has long advocated for immigration reform. When Tran was 7 months old, she and her parents came to the U.S. from Vietnam as refugees searching for freedom and opportunity.
In Charlotte, North Carolina, Vi Lyles became the first black woman to be elected as mayor of the city. Lyles served on the city council for two terms and was the assistant city manager from 1996 to 2004. Lyles faced racial injustice while growing up in Columbia, South Carolina, and after moving to Charlotte to attend what is now Queens University. These experiences sprung her into a life dedicated to fighting for equality for all people in the city.
New Jersey made history by electing the first black woman lieutenant governor of the state. Sheila Oliver was born and raised in Newark, New Jersey, and is a product of Lincoln University and Columbia University. Oliver has held several public offices including New Jersey Assembly, where she was the first black woman assembly speaker of the state.
In Boston, for the first time six members of the city council are women and people of color, making it the most diverse it's ever been. Newcomers include: Lydia Edwards, a black lawyer who will represent the city's District 1; and Kim Janey, a black community advocate, who will represent District 7.
The following women councilors were re-elected: Annissa Essaibi-George, a woman of Tunisian-Polish descent first elected as a councilor-at-large in 2015; Andrea Campbell, a black woman first elected to represent District 4 in 2014; Michelle Wu, who first won a councilor-at-large seat in 2013 and became the first woman of color to serve as council president; and Ayanna Pressley, who was the first woman of color ever elected to the Boston City Council in 2009.
With these diversity milestones, marginalized voices that often go unheard will have a greater chance at being heard loud and clear. This shift in leadership may also inspire more diverse candidate pools in the future of American politics.