Maine votes to expand Medicaid in first statewide vote on the issue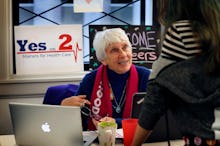 In a historic move, Maine has become the 32nd state to expand Medicaid, and the first U.S. state to make the decision through a statewide vote.
Under the leadership of Republican Governor Paul LePage, Maine had rejected the Medicaid expansion of the Affordable Care Act, which extends eligibility to anyone making up to 138% of the federal poverty line.
Even before the vote for expansion, activists and organizers had made Medicaid a top political issue for Maine politicians in 2017.
Senator Susan Collins was one of several Republican holdouts to oppose the GOP plan to repeal and replace the ACA, in part because of the pressure that Mainers had put on their senator not to support any bill that would cut Medicaid.
Maine had previously made state-level expansions to Medicaid in 2002 and 2003, long before the ACA first passed.
But refusal to expand Medicaid has left nearly 70,000 Mainers in the "coverage gap" between those who qualify for Medicaid and those who qualify for subsidized individual coverage through the ACA.
Prior to Tuesday's vote, LePage lost a high-stakes battle to try to label Medicaid as "welfare" in the language of the ballot initiative.
State legislators may still try and repeal or alter the ballot initiative in the coming days. Should they attempt to do so, they will almost certainly face backlash from an activated progressive base in the state.