TripAdvisor launches a new but sparse security feature following reports it censored hotel reviews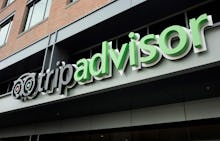 TripAdvisor has launched a new feature that alerts travelers to hotels and other businesses that have received reports of safety violations or discrimination issues. Three hotels in Mexico, all in Playa del Carmen, received the security message — the Grand Velas Riviera Maya, the Iberostar Paraiso Lindo and the Iberostar Paraiso Maya.
The alert reads: "TripAdvisor has been made aware of recent media reports or events concerning this property which may not be reflected in reviews found on this listing. Accordingly, you may wish to perform additional research for information about this property when making your travel plans."
While the badge is highlighted in red at the top of each listing, it does not provide information regarding the type of allegation or level of reported danger. "These badges are intended to be informative, not punitive," Brian Hoyt, senior director of corporate communications at TripAdvisor, said in an email interview.
The timing of this new feature comes soon after the Milwaukee Journal Sentinel broke a story about the removal of hotel reviews mentioning rape and sexual assault, but the company said the security updates have been planned since September. The new feature, which the company is calling a badge, will flag businesses that have had safety or discrimination issues; they were created in response to such incidents as a Bakersfield, California, bakery that refused to serve gay and lesbian couples and the sale of tainted alcohol at resorts in Mexico.
"This is something that has been in the works for several months as TripAdvisor works to find new ways to get information to travelers that might help better inform them about health, safety and/or discrimination issues during their travels," Hoyt said.
The badges will remain online for up to three months. "If the issues persist we may extend the duration of the badge," Hoyt added.
The Sentinel article focused on the story of Kristie Love, a Milwaukee woman whose multiple posts about her 2010 rape at the Iberostar Paraiso Maya resort in Mexico had been removed repeatedly under TripAdvisor's so-called "family-friendly policies," which censored mentions of rape or sexual assault as inappropriate language.
The policy was "intended to do things like make sure people don't curse or people weren't posting discriminatory or racial language," Hoyt said. "Unfortunately, the guidance in terms of how we applied that policy was probably too strict at the time."
According to TripAdvisor, the company changed its posting guidelines a few years after Love's attack to allow firsthand accounts dealing with death, violence and sexual assault. TripAdvisor also republished Love's post about the Iberostar resort in October, but with its original post date — burying it under seven years of newer reviews.
TripAdvisor users have found creative ways to circumvent some of the publishing guidelines to communicate safety issues. Indianapolis-based Amanda Shively, who shared her story for the first time with Mic, was surprised to see one of her posts mentioned in the Sentinel article. Before her trip, Shively asked about safety issues at the Iberostar resort, but TripAdvisor deleted more than half of the responses to her post.
Shively, who ended up traveling to the Iberostar Paraiso Maya anyway based on her own previous positive experiences at the resort, said in a phone interview that she received private messages from other TripAdvisor users alerting her to potential safety issues.
"When I first did that post, I got a lot of private messages from people saying, 'Hey, I tried to send this review and it got deleted and I feel like you should know this,'" Shively said.
While TripAdvisor is attempting to make amends for its censorship of Love and others — they have issued Love a public apology — its past policies are still a source of concern for many women in the travel industry. A number of websites and online communities dedicated to women's travel have created alternative spaces where women can freely share their own experiences and safety information. Sites such as Wanderful, a women's homesharing network, and She Roams Solo, a social networking for solo female travelers, have online content and forums dedicated to topics like sexual assault and safety.
"Firsthand reviews are vital to women who travel on their own," Kelly Lewis, founder of Go! Girl Guides, said in an email interview. "There have been many times in my own travels that I wish I had a woman before me give me the heads-up on what to expect in a certain place. It isn't about fear-mongering; it's about providing accurate information."
Pink Pangea is another online community that publishes stories from women travelers. Some of these stories are about sexual assault and abuse, cofounder Jaclyn Mishal said in a phone interview. She described the story of one author, Hana LaRock, who wrote about the sexual harassment she experienced working at a school in Mexico.
Hana had talked to both school officials and local police, but no one was able to help her. "She later helped other women decide not to go to that school and take the same job. If the police couldn't do it, at the very least she could share her voice online to help [prevent] it from happening again," Mishal said.
Some experts believe there's a fine line to walk between allowing women to tell their stories and preventing businesses from being attacked without giving them the opportunity to respond. TripAdvisor, for example, has followed this line of thinking. In addition to the health and safety badge, the company will also flag companies that have gotten negative coverage, especially when it isn't related to the food or service. Hoyt cited "Pizzagate," in which a pizzeria in Washington, D.C, was hit by negative reviews after a fake conspiracy theory circulated claiming Hillary Clinton her then-campaign chair, John Podesta, were running a pedophilia ring out of the restaurant.
Haley Woods, founder and CEO of women's travel community Girls Love Travel, said there have been several instances where women in their Facebook group — which boasts more than 450,000 members — have posted about incidents of sexual assault or harassment. "If a woman is willing to share her story, the worst thing that can happen is for you to silence her," Woods said in a phone interview. "The way that we handle situations like this in the GLT community is that sometimes we won't close the post, but we will close comments, especially if it's going off the deep end a little bit, if people are becoming vigilantes.
"We never want to diminish or discredit a situation that is brought to our attention. No one should feel silenced," Woods added. "I think that's probably the biggest thing that TripAdvisor is learning right now."