Health care was the most important issue for voters in Virginia. That's very bad news for the GOP.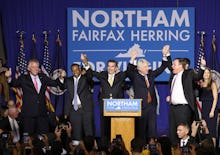 A Democratic tsunami washed across Virginia Tuesday night, sweeping Democrats to victory up and down the ticket as they captured the governorship, lieutenant governorship, the attorney general position and possibly control of the state House of Delegates — an outcome few predicted was even a possibility going into the evening.
And the reason for the resounding Democratic victories should give Republicans heartburn, as the focus now shifts to the 2018 midterm elections, when the GOP will try to defend its majorities in the U.S. House and Senate.
That's because the most important issue for voters in Virginia was health care, according to an exit poll of the race, with 39% of voters saying it was the issue that mattered most in determining who to vote for.
And that 39% overwhelmingly supported Democratic Governor-elect Ralph Northam, choosing him over Republican Ed Gillespie, 77% to 23%.
That comes after Republicans spent the first eight months of Trump's presidency trying and failing to repeal the Affordable Care Act and replace it with legislation immensely unpopular with voters.
In fact, the GOP is still trying to repeal the ACA as they debate their tax reform bill, mulling a plan to nix the individual mandate — which could increase health care costs for people in the ACA health care marketplaces.
Democrats played up the health care news as they touted their electoral victories in Virginia.
In a statement on the Democratic wins in Virginia and New Jersey, Democratic National Committee Chairman Tom Perez said voters "rejected a Trump-Pence agenda that would take health care away from millions, cut taxes for millionaires and corporations at the expense of the middle class and fuel bigotry and division at a time when our country needs unity."
It's a message voters are likely to see more of in 2018, when Democrats will try and wrest control of Congress from the GOP.
Also looming over Republicans is the issue of gun control.
Democrats' support for gun reform was long thought of as an electoral problem for the party.
However, in the exit poll in Virginia — an open-carry state — gun policy was the deciding factor for 17% of voters.
The NRA ran ads touting Gillespie's A rating with the group, and knocking Northam's F rating.
Yet the voters who said guns were the most important issue in deciding their vote split evenly between Northam and Gillespie — a sign that supporting gun control is not as bad for Democrats as previously thought.
"Exit polls show top two issues for #Northam voters tonight were health care and guns," Sen Chris Murphy (D-Conn.), a major proponent of gun control, tweeted Tuesday night. "Say it again. Health care and GUNS."