The 2018 Met Gala theme is "Fashion and the Catholic Imagination"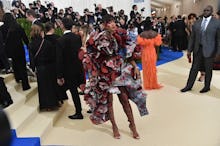 After nights dedicated to technology and fashion — and the creative genius of Rei Kawakubo — the Metropolitan Museum of Art's Costume Institute and Vogue are moving onto an entirely different theme for 2018's Met Gala and exhibition: religion.
Early Wednesday morning, Vogue formally announced that the theme of the 2018 Met Gala is "Heavenly Bodies: Fashion and the Catholic Imagination," with an accompanying exhibit at the Met designed to "create a dialogue between fashion and the masterworks of religious art in the museum's holdings."
Hosted in three different locations in New York City starting on May 10, the exhibit will display ecclesiastical pieces that highlight religion's influence on fashion, alongside gowns from designers inspired by religion, like Cristóbal Balenciaga; Donatella Versace; Coco Chanel, who was educated by nuns; and John Galliano, who crafted an entire collection in 2000 for Dior inspired by the Catholic church.
"By placing fashion within 'the broader context of religious artistic production' (like paintings and architecture), Costume Institute curator in charge Andrew Bolton, working alongside colleagues from the Met's medieval department and the Cloisters, aims to show how 'material Christianity' has helped form 'the Catholic imagination,'" Vogue wrote. "The intersection of faith and fashion, the sacred and profane, as it were, has not always been easy — 'complex and sometimes contested' is how Bolton characterizes the relationship — but the interplay between the two has inspired some awe-inspiring sartorial innovation."
Fashion intertwining with religion had been the rumored theme for a while, and it was already stirring controversy and causing concern for people worried about how the theme will transfer to the Met Gala red carpet on May 7.
And indeed, this will be interesting to watch. While some celebrities may play the theme right, and wear designer gowns inspired by religious art and stories, others may play it too literally, which is almost never the best idea. That being said, though, the 2018 Gala does have an illustrious set of hosts: Amal Clooney, Donatella Versace and our personal patron saint Rihanna.
Though we can't predict what that red carpet will look like, we're positive Rihanna will get this one right.