Trump vowed to "bind the wounds of division." But one year later, we're more divided than ever.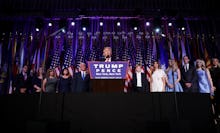 Donald Trump had just capped one of the most vicious, polarizing campaigns in modern American history when he took the stage to address his supporters — and the nation — for the first time as president-elect.
"Now it is time for America to bind the wounds of division," he said. "It is time for us to come together as one united people."
It was a rare vow of harmony from the man who had just spent the better part of 18 months demonizing immigrants, lashing out against critics and threatening chief rival Hillary Clinton.
But a year later, Trump has not only failed to make good on his victory speech promise to "unify our great country" — he's rendered Americans more divided than ever.
"Trump absolutely used the right words in his victory speech — that was the right thing to say in that moment," Jennifer Mercieca, an associate professor of communication at Texas A&M University and an expert on the history of political rhetoric, said in an interview with Mic. "But he quickly abandoned that. He hadn't persuaded a good number of Americans to accept his vision of the nation and soon he stopped trying."
A house divided
According to a Pew Research Center study released in October, Republicans and Democrats are further apart on key political issues over Trump's first year than ever before — a partisan schism even larger than the record polarization seen during the Obama years.
Americans' views on everything from the media to whether "many sides" shared the blame for the deadly violence at a white nationalist rally in Charlottesville, Virginia, have split hard along party lines.
The only thing we can all seem to agree on, in fact, is that we don't at all. Another Pew study released just before the 2016 election found more than 80% of Americans believed backers of Trump and Democratic nominee Hillary Clinton not only had different views on policy, but were operating from a different set of basic facts.
America is a house divided.
Trump has seemed to be not just a passive observer of this shrinking middle ground. On the contrary, he has appeared to feed into America's deep divisions.
According to a Quinnipiac University poll released in August, almost two-thirds of voters said they believed Trump was doing more to divide than to unite the country — and indeed, he has not exactly extended an olive branch to his opponents since the election, nor has he been particularly civil in the way he's disagreed with them.
Melania Trump, who has promised to take on bullying as first lady, has characterized her husband's brutal, often petty attacks as him "punch[ing] back 10 times harder" against critics in self-defense.
But the president's tantrums are frequently unprovoked and regularly run roughshod over what's considered traditional presidential behavior, as seen in his Twitter strikes against Clinton, Attorney General Jeff Sessions and, of course, the "fake news" media.
That all has contributed to an environment in which Americans feel "powerless and angry," according to Amy Siskind, who has been documenting the things "subtly changing" in Trump's America in her Weekly List since November 2016.
"The way people are treating each other has changed," Siskind said in a phone interview with Mic. "Our country has become meaner."
Bridging the gap
Of course, Trump alone isn't to blame for our deepening political divisions. As Pew demonstrated in October, Americans have been growing apart from one another for a while — particularly during the 2010s. It was our polarization, in part, that Russians sought to exploit by meddling in the 2016 presidential election.
But as veteran journalist Ted Koppel noted on CBS News in March, those divisions seem to be amplified in Trump's America. "It needs to be said that our bitter political divide didn't begin in the age of Trump," Koppel said. "But it has evolved."
Rather than try to bridge the gap between divided Americans, Trump has repeatedly been accused of seeking to exploit them.
"You can either exploit the anger, incite it or you can come up with ideas to deal with it," former President George W. Bush told Mark Updegrove, author of The Last Republicans, about Trump in 2016, according to the New York Times.
But Heather Cox Richardson, a professor of American history at Boston College, said in an interview with Mic that she believes most Americans will eventually come together and reject the divisiveness of Trumpism.
"I think most Americans want to compromise," Richardson said.