'90s and '00s pop culture savants need quality merch — and the Thnk1994 Museum is here to help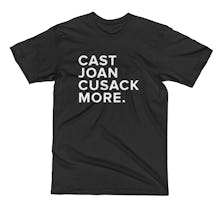 If you or one of your friends are one of those people who's still obsessed with the Olsen twins (understandable), regularly quotes The First Wives Club (very understandable), has definite, unmovable opinions on the Tonya Harding vs. Nancy Kerrigan feud (extremely understandable) and muses regularly about the beauty of Britney Spears' Instagram (nothing but understandable), then we've got the holiday gift guide for you.
Courtesy of the Thnk1994 Museum, which has a permanent collection of Tonya Harding and Nancy Kerrigan paraphernalia and exhibits paintings of the Real Housewives housewives pointing fingers, '90s and '00s pop culture savants are finally getting the merchandise they've long wanted, and deserved.
In Thnk1994's curated holiday gift collection, there are T-shirts, sweatshirts, hoodies, tote bags, iPhone cases and hats that read things like "Cast Joan Cusack More" and "I'm an Olsen twin."
Wear one of these items out and you're sure to make a friend with just as many incredibly niche yet wonderful obsessions as you.
"Some [of the items] are inspired by our previous exhibits. The 'Bowls and bowls of cigarettes' shirt was inspired by the exhibit we did with Laura Collins' exhibition 'Olsen Twins Hiding From the Paparazzi' where we had a room dedicated to Mary-Kate's wedding," Matt Harkins and Viviana Olen, the founders and curators of the Thnk1994 Museum, wrote in an email. "Mostly we chose statements that ring true to us."
And what are some of those statements? Britney Spears' Instagram is art, for one. "It doesn't follow trends, it sets them. It's her walking on her hands at 3 a.m. Like Britney, it is America," Harkins and Olen wrote.
Another: Niecy Nash is a national treasure. "Are you watching Claws? It's like Breaking Bad only 10 times cooler," Harkins and Olen wrote. "It's hard to name another artist that has the range to deliver on Reno 911, Getting On, and an episode of Wife Swap."
This is true.
Obviously, with gifts like this, their ideal customer is someone very specific and pop culture obsessed, who may feel immense joy when googling obscure celebrity moments.
"People like us who get a rush from googling images of "Naomi Campbell at parties," Harkins and Olen wrote. "People who can't stop thinking about how Lorde at the VMAs was the coolest thing they had ever seen. Basically anyone who takes a lot of pride in the pop culture moments they choose to worship."
But if this is you, and yet you're worried that absolutely none of your friends will understand, for example, that a T-shirt reading simply, "Bette/Goldie/Diane" is in reference to The First Wives Club, then Harkins and Olen see this as a great opportunity to educate those friends.
"If one of your 'friends' [doesn't] get it, you have two options: Use it as a teachable moment or just get new friends," Harkins and Olen wrote. "Walk around in the shirt in a populated place and you will make new friends, better friends."
This is probably extremely true too.
Now, given that Thnk1994 has a permanent collection appreciating the Harding and Kerrigan episode at the 1994 Olympics, Harkins and Olen are obviously pretty stoked about the upcoming biopic, I, Tonya, which stars Margot Robbie as Harding.
"We've seen the movie and we couldn't be happier with it," Harkins and Olen wrote. "Margot Robbie and Allison Janney knock it out of the park. The coolest thing is that it highlights all of the roadblocks Tonya overcame to excel in a sport that never fully accepted her despite her skill, which has been our feeling all along. Our generation grew up with her as a laughing stock. It is a campy story but that doesn't mean it can't be taken seriously at the same time. We are so thrilled we had a part in reexamining her legacy."
Fittingly, Thnk1994's got plenty of Harding/Kerrigan-inspired merch ready for the holidays (and the movie's premiere), emblazoned with tabloid headlines from that era.
"The cool thing about our exhibits is that anyone who has come to them has become an instant friend, because if you're into it, then we can have a conversation," Harkins and Olen wrote. "Hopefully these pieces will give people like us a way to connect with each other. Wear your "Cast Joan Cusack" shirt to the next event you're dreading and let it be a beacon to your soulmates."
Honestly not a bad idea.