5 facts that show the massive implications of Tuesday's elections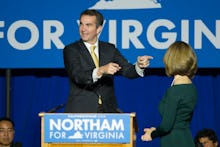 Welcome to Mic's daily read on Donald Trump's America. Want to receive this as a daily email in your inbox? Subscribe here.
Wednesday's dispatch: A wave election
Voters nationwide rebuked President Donald Trump. It's that simple. Nothing else can explain the mammoth, anti-Republican wave that swept Democrats to power at local and state levels nationwide.
Here are 5 facts you need to know after a historic night a year after Trump's election:
1) Democrats flipped at least 14 seats in the Virginia House of Delegates. Others are in recount, making it possible Democrats will win 16 or 17 seats — enough to tie for or win outright control of Virginia's House. Last week, Democrats said in interviews with Mic that winning 3 to 5 seats would make for a good night. Now, they've flipped more seats in one Virginia election than they have since the 1800s.
2) Democrats won the New Jersey and Virginia governor's races. The party in the White House routinely loses those gubernatorial elections, which fall a year after the presidential race. Results there have also presaged midterm election dropoffs in support of the party in power. Democrat Ralph Northam won the Virginia race by more than 8 percentage points. Democrat Phil Murphy won in New Jersey by nearly 13 points.
3) Democrats won by huge margins in suburbs and exurbs. Support for Republicans in Virginia plummeted outside cities, as college-educated voters further fled the GOP. That bodes ill for Republican U.S. House members in 2018 with suburban districts or districts where Hillary Clinton won.
4) There were historic wins beyond the governor's mansions nationwide. Democrats swept mayoral races in major cities nationwide. Danica Roem will be the first out transgender state legislator in U.S history. A Democratic Socialist, written off by the state party, beat a Virginia Republican incumbent. A progressive will be Philadelphia's next district attorney.
5) Voters expanded Medicaid via ballot initiative in Maine. Jonathan Schleifer, executive director of the Fairness Project, a group pushing progressive ballot initiatives, emailed Mic from Maine: "This victory will fuel a movement across the country to expand and lock in Medicaid and bring health care to millions of Americans. It's happening in Alaska, in Utah, in Idaho where campaigns are already getting off the ground."
In Prince William County, Virginia, the night's biggest stars said in interviews with Mic that Tuesday's election results should send a signal to Democrats about their message. By presenting a practical, progressive message about kitchen table issues, candidates said, they were able to sell voters, who had typically elected Republicans, to flip their county's House of Delegates representation from red to blue.
"Discrimination is a disqualifier. Inclusion is a winning message," Roem, America's first out transgender state legislator, said. Her message for the Democratic party?
"You need to focus on your core quality-of-life issues. Traffic. Schools. Jobs. Health care. That's what unites people. There are so many existing problems we have to solve. ... That's a human story."
Prince William County will send Roem to the state capital along with the House's first two Latina state legislators and the first black person to represent the county. Six of the county's eight House of Delegates districts were controlled by the GOP going into Tuesday night. Democrats controlled all of them by Wednesday morning.
The upshot: Republicans are going extinct in or near large cities, a trend that was clear last year and accelerated Tuesday night. That doesn't guarantee Democrats will win control of the House next year, but it helps their chances — with progressives arguing their message is the one that wins.
And as exit polls showed, Tuesday was a clear rebuke of Trump.
Today's question: What do the results of Tuesday night mean to you?
Please email us your thoughts at trumpsamerica@mic.com.
Wednesday in Trump's America:
Trump told moderate Senate Democrats that he would be a "big loser" if the Republican tax plan was passed, arguing the plan would benefit the middle class at the expense of the wealthy. More analyses of the House tax reform bill show it would benefit the wealthy, not the middle class.
Obamacare open enrollment is surging — despite the fact Trump cut the budget to promote news of the launch for buying individual health insurance.
The gunman in Texas escaped a mental health facility in 2012 and had a string of troubling episodes, raising further questions about how he was able to buy a gun. And Mic explores how three people were able to slip through the cracks — and kill 67 people.
Many people said they'd move to Canada if Trump won. These people actually did.
The U.S. is now the only country in the world not signed onto the Paris Climate Deal.
25 members of the Congressional progressive and Hispanic caucuses will write in the Hill on Wednesday that they are working "to create a critical mass of Democratic votes that will not support a funding package that fails to include a clean DREAM Act." Rep. Keith Ellison (D-Minn.), vice -chairman of the Democratic National Committee, is one of the signatories.
Today's MicBite:
It took viral video of a drug addict's overdose for him to stop using heroin. Mic and TIME release a 17-minute video exploring his life and recovery. Tap or click the video below to watch.