Racist messages posted at Air Force Academy discovered to be written by one of the targeted victims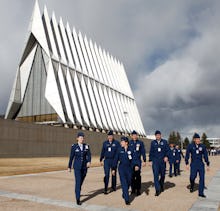 An incident at the U.S. Air Force Academy Preparatory School in Colorado Springs, Colorado, made headlines in September, when five black cadet candidates discovered racist messages written on the white boards outside their dorm rooms.
The hateful messages inspired the academy's superintendent Lt. Gen. Jay Silveria to deliver an impassioned speech denouncing the perpetrator's racist writings, telling students: "If you're outraged by those words, then you're in the right place. You should be outraged not only as an airman, but as a human being."
But now it seems that the perpetrator wasn't a racist student targeting the academy's black attendees — but was instead one of the targeted black victims themselves.
The Air Force Academy confirmed Tuesday that one of the five targeted students was behind the hateful attack, the Colorado Springs Gazette reported. The cadet candidate is no longer enrolled at the school.
"We can confirm that one of the cadet candidates who was allegedly targeted by racist remarks written outside of their dorm room was actually responsible for the act," academy spokesman Lt. Col. Allen Herritage said in an email to the Gazette. "The individual admitted responsibility and this was validated by the investigation."
Sources cited by the Gazette allege that the student wrote the messages in a "bizarre bid" to get out of trouble for other misconduct at the school, though the academy won't confirm the specific circumstances behind the incident.
No matter what the circumstances, though, by falsely committing the hate crime, the unnamed student may have done more harm than good. False incidents make up only a "tiny fraction" of overall reported hate crimes, Brian Levin, director of the Study of Hate and Extremism at California State University, told Talking Points Memo, yet these hoaxes — and the significant attention they often generate — can have detrimental effects.
"There aren't many people claiming fake hate crimes, but when they do, they make massive headlines," Ryan Lenz, senior investigative writer for the Southern Poverty Law Center Intelligence Project, told ProPublica, adding that just one incident can "undermine the legitimacy of other hate crimes."
In a culture where the White House and its allies regularly decry unfavorable journalism as being "fake news," social justice hoaxes are a key way in which critics can challenge the validity of hate crimes overall and take them less seriously.
"I'm a criminologist and people have accused my reports of being biased when I'm using official law enforcement criteria or actual law enforcement data," Levin told Talking Points Memo. "There's something politically going on now that is different. These hoaxes have become symbols for some who want to promote the idea that most hate crimes are hoaxes. That's important to rectify."
When asked about the bombing of a mosque in Bloomington, Minnesota, and President Donald Trump's failure to address it, for instance, former White House adviser Sebastian Gorka dismissed the event as possibly being a "fake hate crime," showing how these hoaxes can lead to real events being ignored.
"We've had a series of crimes committed, alleged hate crimes, by right-wing individuals in the last six months that turned out to actually have been propagated by the left," Gorka said on MSNBC, as quoted by ProPublica. "When people fake hate crimes in the last six months with some regularity, it's wise to find out what exactly is going on before you make statements, when they could turn out to be not who you are expecting."
For the general public, these hoaxes can also work by limiting the burden of discrimination in people's minds, Toni Bisconti, a psychology professor at the University of Akron who studies hate crimes, told Talking Points Memo.
Responding to an incident in which a Muslim girl claimed to have been harassed on the New York City subway — before later revealing it was a hoax, Bisconti said: "We don't like to think of ourselves as capable of making people feel horrible for being born Muslim or Middle Eastern. So if we have one or two situations in which their reports aren't true, we can just let ourselves off. We don't have to feel guilty. We can say, 'Look they're making huge deals out of everything, we don't need to feel responsible.'"
Those on the right have already latched onto news of the fabricated incident at the Air Force Academy to bolster their argument about the widespread nature of hoax hate crimes.
"Too bad Air Force Academy Prep official who hysterically lectured all cadets against 'racism' after this #HoaxCrime didn't refrain from judgment until AFTER investigation was complete," conservative commentator Michelle Malkin tweeted.
Despite the negative effects of the hoax, though, the school — which has faced other recent "woes" in addition to the faked messages, the Gazette reported — and Silveria are standing by their initial response.
"Regardless of the circumstances under which those words were written, they were written, and that deserved to be addressed," Silveria said in an email to the Gazette. "You can never over-emphasize the need for a culture of dignity and respect — and those who don't understand those concepts aren't welcome here."