How did progressives nearly sweep a bellwether Virginia county — and what does it mean for 2018?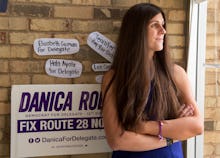 LAKE RIDGE, Va. — It took Danica Roem less than 10 seconds to start talking about traffic Tuesday night.
Fresh off her historic victory as the first out transgender person to win election to a state legislature, Roem's win was seen as evidence Americans are rebuking President Donald Trump's divisive vision. Former Vice President Joe Biden called to congratulate her. Numerous progressive groups, including Indivisible and the Progressive Change Campaign Committee, praised her victory.
But that wasn't Roem's focus as she worked the room at Water's Edge Brewery, a bar in a Lake Ridge strip mall. Time and again, Roem promised to "fix Route 28" — a congested road that contributes to a 40-minute commute for residents of Virginia's 13th District in the northern part of the state. The headaches of congestion have led residents to explore launching car ferries to avoid highways.
"I literally told Sen. [Mark] Warner that the people of the 13th District badly need Route 28 fixed," Roem told Mic of her congratulatory call with Virginia's prominent U.S. senator. "And he said, 'I'm so happy that's what you said.' He understood I have a constituent-first mindset."
Tuesday night, four victorious Democratic candidates — four women, three of color and one transgender — defeated older, white, male Republican opponents. A fifth, a socialist, knocked off the Republican House Majority Leader.
All five progressive candidates ran campaigns focused on the economy, not identity. They discussed transportation, Medicaid expansion, wages, schools, access to health care and other kitchen-table issues they argue the Democratic Party has shied away from.
On Tuesday night, Prince William County witnessed the largest shift from Republicans to Democrats of any county in Virginia. The state's second-most populous county has eight House of Delegates seats. Democrats were concerned Tuesday morning that a forecast of 40 degrees and rain over northern Virginia would depress turnout.
But by the end of the night, Democrats had flipped five of six Republican-held seats in the county. That included unseating Republican House Majority Whip Jackson Miller. Roem beat the Republican champion of an anti-trans bathroom bill. District 31's Elizabeth Guzmán and District 51's Hala Ayala became the first Latina members of the House.
Initial results made it seem like the 40th District's Tim Hugo, the third-ranking Republican in the House of Delegates, would lose his seat to Democratic challenger Donte Tanner. It now appears Hugo will retain his seat, the only Republican in the area to survive. Jennifer Carroll Foy, a black woman, won an open seat previously held by the GOP and will represent part of a county that is 20% black and home to the first major battle of the Civil War.
And Lee Carter, a Socialist whose candidacy was abandoned by the state Democratic party, won by 10 percentage points — an unexpected win, according to local residents with whom Mic spoke. Ralph Northam, the Democrat who was elected Virginia's governor Tuesday, won the county by nearly 23 points.
How did Democrats see a 250% surge — picking up five of eight seats and retaining two — in their level of representation in a bellwether Virginia county? The candidates and the groups supporting them argue that a message built on improving residents' everyday lives drove higher turnout, converted conservatives and became the perfect means to oppose the Trump agenda.
"We're not going to follow Trump and some Republicans lead," Carroll Foy said in an interview with Mic. "We're going to change the conversation. We're going to change the face of Richmond and Virginia and D.C. This is only the beginning. A clear message has been sent that a wave is happening and I'm excited to be a part of it."
Shifting demographics
Though very few were predicting it, Tuesday night's Democratic surge in Prince William County may have been inevitable.
The county typifies exurban America: commuter towns for an urban area. Its population has grown to more than 455,000 residents, a 13.2% increase over 2010. Water's Edge Brewery, where the Democrats convened Tuesday to watch the results and eventually celebrate, is encircled by an ever-growing number of residential cul-de-sacs. Less than 4 miles away is Potomac Mills, the state's largest outlet mall of 200-plus stores that sits next to I-95, the East Coast's north-south interstate.
Federal workers, government contractors, teachers, doctors and more have flocked to Prince William County for its relatively lower cost-of-living compared to Washington, D.C.'s adjacent suburbs. The county is essentially as black as it is Hispanic and Latino, with whites making up 44% of the population. It's also home to Quantico, the U.S. Marine base now represented by Carroll Foy, who also happens to be one of the first black woman graduates of the Virginia Military Institute.
In 2016, Hillary Clinton defeated Trump in the county by 20 percentage points. But that level of support has not typically been reflected in off-year elections. In 2013, Virginia's Republican gubernatorial candidate in Virginia lost Prince William by less than nine points.
Furthermore, the majority-minority county was largely represented by older white men, some of whom pushed conservative social agendas opposed by women and minorities. That disconnect extends to the local level. In October, the county's Board of Supervisors refused to hear debate on changing the names of county buildings and roadways that are linked to Confederate figures.
Discussing the fact four women will now represent his county, Harry Wiggins, the chair of the county's Democratic party, said he'd never seen — nor did he predict — a sweep like he witnessed Tuesday night. "We put long-term incumbents to rest. ... We elected people who look like Prince William County," he said.
Laying the groundwork
The plotting for Tuesday's Democratic sweep began earlier in 2017. The thinking went that if Democrats could win in Prince William County, not only during presidential races but in off-year elections, they may find a formula for victory in other counties that straddle the rural/urban divide.
Ten key progressive and Democratic groups focused on these six opportunities to flip a red seat blue. Of the 110 endorsements those groups made in House races statewide, 44% of them came to seven of the eight House races in Prince William, according to a Mic analysis of the endorsements. (The 10 groups are MoveOn.org; the Democratic Legislative Campaign Committee; Future Now; Flippable; Indivisible; Progressive Change Campaign Committee; Working Families Party; Our Revolution; Let America Vote; and Sister District.)
A sampling of their efforts: Seven of the nine House races supported by Let America Vote were in Prince William County districts, with volunteers knocking on more than 161,000 doors. Indivisible made more than 120,000 calls for the county's Democratic candidates. The Working Families Party endorsed seven candidates statewide, but focused its energy on races in Prince William: Guzmán and Ayala.
"Ayala and Guzmán are both women of color who ran in Republican-leaning districts, and both ran as full-throated progressives," Zach Weinstein, a political organizer for the Working Families Party, said. "The path to win tough races is a bold progressive agenda that puts working-class and middle-class families first."
Other organizations, including groups specific to Virginia, supported these candidates and others statewide. The Progressive Turnout Project invested $600,000 in Virginia; BlackPAC spent more than $1.1 million on driving up turnout.
The candidates were prolific organizers in their own right, outside groups told Mic. But on Tuesday night, the candidates credited those groups with making their victories possible by turning out voters who don't usually make it to the polls in non-presidential elections.
"Having people that represent you, that look like you, what an amazing accomplishment for us tonight," Ayala, who describes herself as "El Salvadoran, South African, Lebanese and Irish," said. "We've actually given Richmond a heart transplant tonight."
From before the primaries, Flippable, an organization dedicated to flipping states blue, worked with campaigns to raise funds, gather volunteers and connect them to campaign. Flippable cofounder Chris Walsh said the experience in Prince William County was important for new groups to learn how to coordinate with each other and with candidates.
"We brought to these groups new strategies and new ways of thinking. They gave us institutional knowledge and tools we didn't have going into it to help these candidates," Walsh said. "[This was] unifying new organizations and old organizations into a stronger party."
Carter's win was especially notable: The Socialist was backed only by Let America Vote and Forward Majority, another outside group dedicated to winning back state legislatures from Republican control.
In October, after the state Democratic Party wrote off Carter's candidacy, it was assumed the GOP incumbent would cruise to victory.
"We knew the race could be very competitive and that Democrats couldn't afford to let it go uncontested," Forward Majority founder and executive director David Cohen said.
Added Jason Kander, founder of Let America Vote: "There was a great group of candidates running in Prince William County, so when we were deciding where to focus our field efforts, we knew we could have a major impact there."
The message for the wave
Guzmán, a first-generation Peruvian-American, enjoyed widespread support from local, state and national groups to push her to victory. All that effort was ultimately far more than was needed. She beat Scott Lingamfelter, an eight-term Republican incumbent, by 22 percentage points.
A Sen. Bernie Sanders (I-Vt.) delegate during the 2016 Democratic primaries, Guzmán said Sanders' presidential candidacy inspired her to run for office to improve America for her children "who may look different, [who] don't fit the white profile, but are Americans."
The progressives who won in Prince William County all said they drew at least some motivation to run because of Trump's rhetoric and unlikely election victory. But they were clear that, while rejecting Trump's message of "discrimination" and "divisiveness," their success was connected to presenting an actionable to-do list for voters.
Health care was the top issue for 39% of Virginia voters Tuesday. That meshed with the campaign themes of the Prince William progressives, a group that embraced Medicaid expansion where it has been blocked by a Republican-controlled legislature. Increasing both the minimum wage and access to affordable health care were other winning talking points. And local issues, like fixing roads and reducing congestion, hit home with voters, candidates said Tuesday.
"This was a mandate for what we need to do moving forward. We need to live our values," David Pala, the executive director of Prince William Democratic Committee who helped bring in outside progressive groups to experiment in the county's House races, said. "We need to give people something to vote for. We need to connect with the issues in people's hearts, the things that are most local to them that affect their lives."
Roem, who aims to be known more for traffic than being transgender, couldn't help but note her margin of victory in a traditionally Republican district as the watch party drew to a close.
"By the way, did I just see Northam was 54 to 45? What did I win by? Was it the same number?" she asked aloud. Northam won by 8.9 percentage points; Roem won by 8.28 points.
"What do you think about the 13th District being a bellwether?" the 33-year-old Roem said with a grin, referring to her traditionally Republican district. "That's kinda cool, isn't it?"