One year since Trump's election, these women are running for office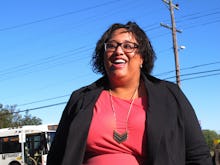 On the one year anniversary of the 2016 election, Mic spoke with 33 women who are running for office to fight back against President Donald Trump.
Watch here:
"If there is one good thing that Donald Trump has ever done, it has been taking women like me from the sidelines saying, 'No more. I will not wait,' and rising to the challenge of running for office" Amanda Webster, candidate for the 62nd District seat in the Connecticut State Legislature, said.
Webster is not alone. Trump's election has prompted women across the country to run for office, ranging in scope from school board to Congress.
Former Georgia House Minority Leader Stacey Abrams, who is running for governor of Georgia, said women are running to disrupt the current political climate.
"They are running to change America. They are running to protect our bodies, protect our families and to make certain that our country lives up to its best promises and its highest ideals."
On Tuesday, candidate Ashley Bennett unseated an incumbent to win Atlantic Country freeholder.
"I decided to run because my current elected official decided to post a meme after the Women's March that said, 'Will they be home in time to cook dinner?'" she told Mic. "Obviously it's 2017, apparently he forgot. But women are doing amazing things and breaking all kinds of barriers and that should be celebrated."
Amanda Litman — co-founder of Run for Something, an organization that recruits and supports progressive millennials running for down-ballot office — said Bennett is proof that first-time candidates can win.
"These women and millennials are the future of the Democratic Party and the country," she said.