Democratic wave in Virginia could spur even more House Republican retirements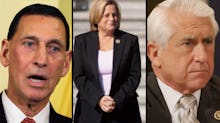 House Republicans have seen a spate of members retire in recent weeks, leaving vacant House districts that present Democrats with pick-up opportunities in the 2018 midterm elections.
Two more House Republicans announced their retirements on Tuesday, including one longtime GOP lawmaker in a key swing seat that provides Democrats with one of their best chances to flip a district in the country.
And Republicans are expecting even more of their members to head for the exits after Tuesday's elections, which saw Democrats capitalize on anti-Trump sentiments to ride a wave into power in Virginia, New Jersey and a handful of other states across the country.
Tuesday's retirements came from GOP reps. Frank LoBiondo of New Jersey and Ted Poe of Texas.
Poe saw his suburban Houston seat grow more Democratic in 2016. But it's LoBiondo's South Jersey seat that Democrats have a better chance of winning.
LoBiondo insisted he wasn't retiring because he felt he was vulnerable to a Democratic challenger. However he did cast aspersions on his colleagues, saying they are not interested in governing.
"Furthermore, as some of my closest colleagues have also come to realize, those of us who came to Congress to change Washington for the better through good governance are now the outliers," LoBiondo said in a statement.
After Tuesday's election, another House Republican's name entered the retirement rumor mill, with Politico reporting that House Judiciary Committee Chairman Bob Goodlatte (R-Va.) could soon announce his decision to leave Congress.
Goodlatte's 6th District seat would likely be safe for Republicans. Ed Gillespie, the Republican gubernatorial nominee in Virginia, carried the seat in Tuesday's election, even as he got trounced by Democratic Gov.-elect Ralph Northam.
However past GOP retirements have presented Democrats with other opportunities to flip seats into their column.
They include Republican reps. Ileana Ros-Lehtinen of Florida and Dave Reichert of Washington state, whose retirements could likely swing their districts into Democratic control.
All were members of the Democratic Congressional Campaign Committee's "retirement watch list."
"Any way you look at it, vulnerable Republicans are staring down the barrel of a miserable midterm election with health care repeal and a do-nothing Congress hanging over their heads," the DCCC said in a statement announcing the GOP members on the retirement watch list. "More retirements are certain to come."