Best gifts 2017: The only 7 ideas you really need for Christmas or any holiday, according to science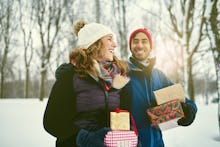 Buying gifts can be fun — but it can also be a big source of anxiety. Close to 9 in 10 consumers say buying presents around the holidays is a source of stress, according to recent surveys. And Christmas and other seasonal shopping can actually take a physical toll: An eBay study found it increases people's heart rate by 32%, comparable to the spike experienced when running a race.
That study found that the best way to combat holiday shopping stress is to try to instead spread it out and take breaks. Attention spans start to wear off after a half hour, so instead of a marathon session at the mall, you might consider splitting your shopping tasks up into short bursts.
Of course, the best way to combat present-shopping stress is to come with a gameplan ahead of time. Below, Mic has compiled seven gift ideas that experts and empirical studies suggest will result the best, most meaningful bang for your buck. But above all else, don't overthink it. Your gift recipients' brains are hardwired to enjoy unexpected rewards, as one University of Pennsylvania researcher put it, so even just the simple experience of receiving and unwrapping your gift will be a treat.
Need more help? Read on.
1. The experiential gift — that strikes the perfect balance
One of the most enduring pieces of advice is to gift experiences as opposed to material objects. Cornell University behavioral economist Thomas Gilovich said this works because a lot of the pleasure of receiving gifts comes from simple anticipation. And in a 2014 paper, Gilovich and his colleagues showed that anticipating experiences is more fun than the anticipation that leads up to receiving some sort of material object.
But as with any piece of viral advice, people may have taken this to an extreme, said Lizzie Post, the great-great granddaughter of Emily Post, author of the legendary etiquette guide now in its 19th edition.
"Gifting experiences works both ways," Post said. "You need to think about the person first. One of the most common is skydiving, and they blindfold them and take them all the way to the airplane, but that's like too much."
If you're stuck on what sort of experience to give, you might be able to figure out something based on the events, lectures, boozy painting classes or cheese tastings the recipient has tended to RSVP to on social media. Is there an author or band they won't stop talking about? Check to see when they might be in town to perform or talk — the farther off the better: Remember that the anticipation is one of the best parts.
Then again, internet-stalking your way into thoughtful gift giving can have its limits, Post said. "If it's something you've noticed that's popped up on their feed in the past few days or weeks, it's much more OK to have seen that and use it to have inspired the gift," she said. "But if that post was four years ago, and ... someone from like my life up and showed up with the item, I'd be like, 'That's amazing! But it's a little weird you found it.'"
2. The perfect white elephant gift — that's also super practical
Taking part in a white elephant gift exchange or "yankee swap" can actually be a really instructive experience, since it forces you to find inexpensive presents that would be enjoyed by many different people. As it turns out, research suggests there are some smart insights you can use to find a gift that has universal appeal.
For example, it seems givers and receivers often tend to favor different gift qualities, according to a 2014 paper from the Journal of Consumer Research. The study found that present givers tend to emphasize the "wow" factor, whereas gift receivers are more likely to be concerned with practicality.
So, for example, if you're deciding between a gift certificate for a restaurant around the corner and one for the hottest reservation in town, the authors say you're actually better off going with the place nearby. It might seem less glamorous to you — but your recipient might actually like it more.
And in general, this means you shouldn't be afraid to go more utilitarian, particularly with young parents. The most effusive praise in a Real Simple article about practical gift-giving was for a brother-in-law who showed up with a bulk package of AA batteries as a gift.
If someone likes to cook, you can't go wrong by upgrading kitchen essentials, like a ceramic nonstick pan, a measuring cup set, an innovative spoon rest or a new, high-quality knife. For someone chained to their desk, a set of good headphones, stationery or desk swag will be appreciated: As Post put it, "you can never give a golfer too many golf balls."
3. The gift of time
Hard-working adults get really busy, and one of the best things you can give someone is a little more of their own life back. Indeed, one recent study led by a researcher from the Harvard Business School found that time-saving purchases — like ordering takeout or hiring someone to help out around the house — were actually more likely to increase a person's happiness than clothes, food, booze and other material items.
That would suggest that if you really want to make someone's day, a takeout coupon or a housecleaning might be the way to go — but notably, this is also a gift that you can get someone without having to spend any money.
Looking for a gift to get the roommate without stretching your budget too much? Combine an inexpensive gift with a written offer to pick up a set number of extra tasks on the chore wheel and empty out the fridge you two have both been ignoring in an olfactory arms race. The research suggests that this might be even more appreciated in the end than a trinket you spent cash on.
4. The nostalgic gift that's worth the risk
The best gifts make us feel warm and fuzzy: The salvaged photo album, the out-of-print favorite book, the long-forgotten cache of love letters.
But interestingly enough, when weighing the pros and cons of a more sentimental gift — like a photograph of a special memory — versus a more commercial gift (in this case a jersey from a favorite sports team) gift givers go with the commercial one more often than they should, according to a Carnegie Mellon University study.
The reason? An old photograph feels like a Hail Mary while the sports jersey feels like a sure bet gift-giving wise, even though the photograph is actually more likely to make the recipient feel closer to you, the study found.
So if you're feeling stumped this year, roll through the photos where you're both tagged and frame one — or put together a photo album. The data suggests a sentimental gift is usually a risk worth taking.
5. The (tried and tested) subscription box
As much as the "gift that keeps on giving" seems like a cliche, there's some interesting science behind the reasons why people love subscription boxes like Birchbox — as well as the many gift-of-the-month services that will send you anything from beer to toys to razors to dive-bar shirts every new moon.
Part of it has to do with the fact that people love getting stuff in the mail — 41% of Americans say they look forward to checking their mail every day, according to a 2015 Gallup poll. And nearly everyone likes receiving mail when it's from someone they know; around 8 in 10 said they like getting packages of every kind. That's a pretty a surprising statistic considering how much of our important communication has migrated to email and messaging, and might help explain the proliferation of subscription box services. Indeed, behavioral scientists say that these services might be too pleasurable — even addictive.
The reason? Part of it is what academics call a gambler's high — opening up a package is more fun when we don't know what's inside. Yet at the same time, people are also creatures of habit. Subscription box services nurture both of these desires at the same time: a little surprise at the same time every month.
In other words, while dangerous for your budget as a gift-to-self, these make for fantastic presents for other people. Just be sure to do research ahead of time and read lots of different reviews, since the industry can be shady.
6. The mind-reader gift
One of the year's most memorable viral heroes was a prodigious gift giver named Jordan, who told BuzzFeed and others that he created a surreptitious Pinterest account entirely to follow his girlfriend and get gift ideas from items she pinned, from lip glosses to earrings.
Another clever way to mine for information? "I just ask people to guess what I got them, and then they list off tons of present ideas for you," said Mic product engineer and gift-giver Dan Phillips.
And if all of that seems too sneaky, you might try coming out and simply asking them what they want. It's an underrated option, Post said.
"When you start digging back into social media posts from like months and months ago, that's when you're starting to dig too hard and you should just pick up the phone," Post said. "It's perfectly OK to just ask people what they might like. Just say, 'Hey, I wanted to expand my gift list this year and I really want to know what's on your wish list!'"
Of course, if you keep coming up short on ideas, it could be a sign you need to start paying better attention — even if that's a lesson you won't get to apply until next year. To get ahead in 2018, another Mic editor suggests you keep a running note on your phone where you can easily jot down gift ideas year-round whenever a loved one drops a useful hint like, "I wish I had a drone" or "Why don't we go to the opera more?"
7. When all else fails? Something tasty
If you can't think of anything else, there's absolutely nothing wrong with getting someone something to eat or drink, Post said.
"Consumables are usually really good too; you don't have to go alcohol," Post said. "Treats, coffees, teas, coffee, are all usually really safe because it's something that they can serve at a dinner party."
If you do decide to go with booze, remember that showing up with a chilled bottle sends the signal that you want to drink it right away, whereas something that's not ready to be drunk yet is going to send the signal you really want them to enjoy it themselves.
You can always personalize wine bottles for that extra touch, or use recommendation site like Distiller to get some options that will suit the recipient's taste.
Finally, while it's wise to make sure the receiver can eat or drink whatever you're giving them, as writer Ariane Sherine noted on Twitter, even way-off-the-mark consumables are going to be received warmly.
It is, after all, the thought that counts.
Sign up for the Payoff — your weekly crash course on how to live your best financial life.