Maine Governor Paul LePage is threatening not to expand Medicaid despite his state's historic vote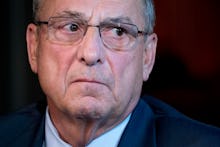 Not 24 hours after Maine residents voted overwhelmingly to expand Medicaid under the Affordable Care Act, Republican Gov. Paul LePage has declared he will not follow the will of the people unless his demands are met.
"My administration will not implement Medicaid expansion until it has been fully funded by the legislature at the levels [the Department of Health and Human Services] has calculated," LePage said in a statement. "And I will not support increasing taxes on Maine families, raiding the rainy day fund or reducing services to our elderly or disabled."
On Tuesday, Maine became the first state ever to expand Medicaid through a ballot initiative, voting to approve the expansion by a margin of nearly 18 percentage points.
LePage's demand is part of an ongoing effort by the governor to prevent Medicaid expansion in his state.
Prior to Tuesday's vote, LePage vetoed five separate Medicaid expansion bills that the state legislature sent to his desk.
In the lead-up to Tuesday's vote, LePage attempted to force the state to refer to the Medicaid expansion as "welfare" on the ballot. LePage ultimately lost that fight when Maine's secretary of state opted for more neutral ballot language.
Despite LePage's funding concerns, Medicaid expansion was made relatively affordable for state governments under the ACA. Under the law, the federal government picks up 95% of the cost in 2017, and will gradually reduce support to 90% of the cost by 2020.
Maine's Democratic House Speaker Sara Gideon has said the House will move quickly to fund and implement the voters' choice, and will fight any attempts by LePage to stop them.
"Any attempts to illegally delay or subvert this law will not be tolerated and will be fought with every recourse at our disposal." Gideon said in a statement. "Mainers demanded affordable access to healthcare yesterday, and that is exactly what we intend to deliver."