Expats share their tips on celebrating Thanksgiving abroad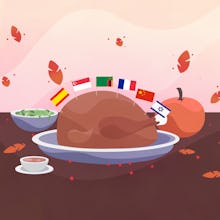 On Thanksgiving, millions across the U.S. will dig into roasted turkey, mashed potatoes, pumpkin pie and other holiday staples. But for the nine million Americans who live abroad, Thanksgiving celebrations might be a little harder — or completely impossible — to pull off.
Mic asked seven people who have lived abroad how they celebrated Thanksgiving outside the States. These expats left the U.S. for a variety of reasons — serving in the Peace Corps in Zambia, researching a dissertation in Paris, working in Shanghai and studying in Jerusalem. Here's how they re-interpreted the American tradition around the world.
In Solwezi, cooking for three days straight
The average American probably doesn't chow down on warthog and crocodile at Thanksgiving — but that's exactly what 27-year-old Emily Dick was eating when she celebrated in Solwezi, Zambia, while she served in the Peace Corps. Dick and 25 other Peace Corps volunteers went to great lengths to replicate their Thanksgiving favorites.
Cooking green bean casserole proved to be the hardest. "With no access to the fried onion topper, we had to cut, individually batter and fry the onions," Dick said. The entire meal took three days to cook since the main source of electricity in Zambia is dam-generated hydropower. The group cooked and baked over charcoal grills, fires and pits — and they didn't have a refrigerator.
"It was really nice to be able to have a break and breathe in the American culture of gluttony in gym shorts, which was taboo for women [in Zambia], speak English and drink some wine, [which was] also taboo for women," Dick said in an email interview. The group lit candles and everyone wrote down what they were thankful for.
"It was great to see what people can make happen to uphold their culture. Location didn't change the gratitude for me," she said.
In Jerusalem, noshing on turkey shawarma
When Liz Vakin was taking a gap year in Jerusalem, she tried to make her Thanksgiving as traditional as possible. "[It] was very much as authentic as we could get it," she said in an email. Except whole turkey and cranberries were hard to come by in Israel, Vakin noted. Instead, she made do with what she could source — turkey pieces instead of an entire bird, local olive oil to make gravy.
The cranberry sauce was an exercise in creativity, too. Vakin and fellow Americans "rehydrated" dried cranberries with cherry juice and orange juice, then pureed them to make the traditional sweet cranberry sauce. "It was a delicious dinner — one that we poured our hearts and pockets (so expensive!!) into," Vakin said.
The next year, she decided to create a local feast that was a little lighter on the wallet. She translated "traditional ingredients into something more familiar to the Middle East," she said. The menu included turkey shawarma, pomegranate molasses pureed with raisins instead of cranberry sauce and roasted sweet potatoes with date honey and paprika.
"I remember making the turkey shawarma again at least on a few other occasions that weren't Thanksgiving, because it was just that good," Vakin said.
"Coming together over food with others to appreciate [Thanksgiving] — whether they were American or not — was a great way to feel like I had a community that understood what it felt like to miss home," Vakin said.
An American-style barbecue in Singapore
Work brought 26-year-old Sam Fuentes to Singapore for two years, and he celebrated the American holiday in two very different ways.
The first year, he barbecued with friends. The group – which included people from the U.S., Australia and France — ate "hot dogs, hamburgers, grilled veggies, etc., out of necessity," Fuentes said in an email. "None of us were too into cooking, and kitchens in Singapore condos tend to be very small and they don't have ovens," he said. The second year, Fuentes traveled to Thailand with his girlfriend.
"It was very nostalgic to celebrate in another country," Fuentes said. "I was in the company of other Americans so we all had different stories about the Thanksgiving we imagined [our families] having back home."
Fall-inspired foods in Paris
"It was really important to me that we had people over for Thanksgiving," Claire Jensen, a 27-year-old who was working on a dissertation in Paris, said in an email. Jensen and her partner, a British mathematician, had moved to Paris and both love to cook.
"While I missed cranberry sauce and really missed my mom's cheesecake, I think we were able to adapt to the circumstances by following the autumn comfort food, meat and gravy theme even while we didn't have access to certain traditional American Thanksgiving ingredients," Jensen said. They decided to cook autumnal foods that mimicked Thanksgiving's comforting flavors.
"We braised whole turkey legs in an herb-y onion-y sauce. I also made traditional stuffing with sage and herbes de Provence and sausage, mashed potatoes, and Brussels sprouts with bacon," Jensen said, noting that a guest brought a broccoli and rice dish that made her question why Americans don't eat rice on Turkey Day.
"We had just moved here and were still getting to know people nearby — having a big weird rowdy Thanksgiving really helped us feel like we were finding a community and making a home here in France."
A turkey with all the fixings in Shanghai
For Hannah Tessler's first year living in China, she went to an American restaurant's Thanksgiving buffet in Shenzhen. But for the past two years in Shanghai, the 25-year-old has cooked up a traditional meal with a group of friends.
"We make a full Thanksgiving dinner, with turkey, stuffing, gravy, mashed potatoes, pie... I live in Shanghai so it's really easy to get basically any imported food. We also had squash soup, pumpkin pie and quiche," she said, noting they didn't include any local fare.
In fact, Tessler said it's more of a traditional dinner than she has at home with her family, since they typically didn't roast a whole bird.
"I love celebrating Thanksgiving here! My boss is American so we have the day off work, [and] I always spend the day cooking. It's just fun to get all our friends together, eat way too much food and share what we are thankful for."
Just another day in Ho Chi Minh City
For Harry Swan, a 26-year-old expat living in Ho Chi Minh City, Vietnam, Thanksgiving was a non-issue.
"I didn't know how to cook the traditional Thanksgiving food or have an oven in my house, plus the ingredients would've been hard to find and pretty expensive," he said, noting that many Americans felt the same, that it was "more trouble than it was worth." Lots of his friends weren't American, either.
Though Swan was teaching English and shared Thanksgiving traditions with students, he didn't get any time off. Though big hotels like Hilton and Marriott had Thanksgiving specials, he said he "couldn't be bothered" to celebrate.
Chorizo and calamari in Madrid
The Spanish don't have a word for cranberry, so expats living in Spain are out of luck if they're craving cranberry sauce.
"They use the same word as they use for blueberry — either arandano, arandano rojo or arandano agrio — literally blueberry, red blueberry or sour blueberry," Jeffrey Boxer, a 26-year-old who lived in Madrid for three years, said in an email. On his first Thanksgiving, he went out for tapas. It was a traditional Spanish meal featuring chorizo, patatas bravas and calamari, he said. But the following two years, he got together with a group to celebrate.
Boxer and his American friends hosted a traditional Thanksgiving for their Spanish friends. Roast chicken was a stand-in for turkey, but all the other usual suspects were there — mashed potatoes, stuffing, pumpkin pie and pumpkin beer.
"It was an amazing opportunity to grow closer to my friends in Madrid — both American and Spanish. Especially with my Spanish friends, it was really special for me to be able to bring that slice of my life and my culture over to my adopted country," Boxer said.