Want to get paid to vacation? You can earn $60,000 for six months of fun in Cancun — here's how.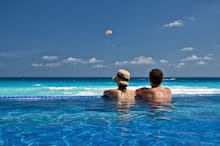 Vacation is important for mental health, but costly — too often leaving travelers with credit card debt that lingers long after they're back at their desks. Quitting your day job to blog or Instagram your way around the world isn't all it's cracked up to be, either. But a recent job posting from a travel company affiliated with the City of Cancun in Mexico may offer the best of both worlds.
No, this is not a drill: Cancun.com is seeking a "Cancun experience officer" (aka CEO!) to travel around the tourist destination and document their adventures on social media. The duties listed on the press release include a number of onerous tasks, ranging from "sleeping in luxurious beds" to "mingling with locals and tourists at your VIP table in the hottest clubs."
The best part? It pays — and not too shabbily. According to the press release, Cancun's CEO will receive $10,000 a month for the six-month contract, in addition to having all room and activity expenses covered by Cancun.com. You may be responsible for some of your own meals, unless you're documenting your adventures at one of Cancun's all-inclusive resorts, naturally.
A more practical job description on the company's website clarifies that the role involves creating video and social media content about Cancun that's geared toward an American audience. So get your Instagramming and YouTubing skills ready.
You'll need to be at least 18 and have a valid passport, obviously — but you don't need to speak Spanish. Anyone can apply on the website by answering a few questions, submitting their social media profiles and making a short one-minute video. Three rounds of finalists will be selected before the ultimate winner is named Jan. 31, 2018. The deadline for submissions is Friday, Dec. 17.
This is hardly the first time a tourist destination has offered up cash to promote travel, but it's one of the more lucrative offers around. A similar promotion from a tourism website promoting the U.S. Virgin Islands paid $300, though, to be fair, that one didn't require nearly as much work.
Even if it didn't come with a generous salary (that would be in the six figures if annualized), the "CEO" job would probably still be a fun gig: Mexico recently ranked in a survey as a top dream vacation destination for people if money was no object.
Want more dream job inspiration? Here are 10 other fun gigs you wouldn't believe you can get paid to do. And, if all else fails and your "CEO" application doesn't win out, it's also comparably inexpensive and relatively easy to find cheap flights to Mexico — so you can still get that vacation you so deserve.
Sign up for The Payoff — your weekly crash course on how to live your best financial life.