Inside @WhatFranWore, the Instagram account dedicated to Fran Drescher's 'The Nanny' fashion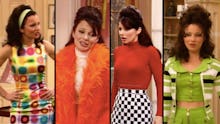 There are the TV shows where fashion plays a pivotal, exciting part. Sex and the City qualifies, of course, as have shows like Married with Children, Friends, Gossip Girl, Mad Men, Broad City and Insecure.
But now we think it's time to add another show to this esteemed list of shows that fashion was not only great, but essential. We'll give you a few hints: She was working in a bridal shop in Flushing, Queens, 'til her boyfriend kicked her out in one of those crushing scenes.
You think you got it now? Well, here you go: She had style. She had flair. She was there... that's how she became the nanny.
That's right. The Nanny, with Fran Drescher playing Fran Fine, the iconic woman with that thick accent and an affection for extravagant outfits, was a show bubbling over with high fashion and unbelievable taste. If you're still doubtful, the show's got its very own appreciative Instagram to prove this once and for all.
The account, called @WhatFranWore, is all about not only celebrating Drescher's many outfits on The Nanny, but identifying the designers who designed them as well. For the account's founder Shanae Brown, a 28-year-old nurse's aide living in Atlanta, it's been a journey.
"I watched it in passing when I was younger but I never really sat down and watched every episode until a couple years ago," Brown said in an interview with Mic. "I was like, this is something I wanna revisit. I started binge watching it and saw that she looks so amazing."
Brown started by posting a few screen grabs of Drescher's outfits from the show on Tumblr for her own amusement, and then got a ton of responses from people asking who designed each of the outfits. Not knowing the answer herself, Brown investigated, scanning vintage magazines, YouTube videos of '90s fashion shows and eBay. After identifying a few outfits, Brown's sister urged her to create an Instagram account, and in April 2016 @WhatFranWore was born.
Currently, the account has more than 200,000 followers.
"Just like me, people didn't realize how amazing the outfits were, how much detail went into it and how high-end they were," Brown said. "In the show, the other characters would make fun of her and it's like no, actually this is pretty fly."
Indeed, Drescher's character is frequently chastised for her clothing choices, but in reality this woman was wearing Moschino, Hervé Léger, Chanel, Vivienne Tam, Alaia, Versace, Vivienne Westwood and Bob Mackie, among others.
She had style, flair and a fat bank account, apparently.
With more than a year of tracking these outfits, Brown has gained a very particular fashion education in the process.
"I didn't know anything about fashion before this," Brown said. "Not one thing. And now, especially when I look at stuff from the '90s, even before reading the caption, I know if it's Dolce and Gabbana or whatever. And when I watch TV now I pay more attention to what people are wearing. It's this thing engrained in me to pay attention to what people wear."
A big reason why Brown thinks her specific account has become so popular is the current '90s resurgence in fashion, and Fran Fine being a living, breathing embodiment of '90s style, with fuzzy crop tops, fuzzy coats, tight animal print and
She is an inspiration for us all.
As you can imagine though, capturing all of these outfits and identifying them is a massive task for Brown. But armed with The Nanny boxset and an unwavering patience, Brown perseveres.
"She changes like almost every scene, so it's a lot of screenshots," Brown said. "I screenshot it, I have it in a folder on my computer. I go through the folder and look at it and then I go to eBay or YouTube to look at fashion videos. I've seen the screenshots so many times that once I see the clothes, I just automatically recognize it and I'm like yup, there it is."
If the eBay auction for the garment is still live, Brown frequently posts the link in her bio in case a fan wants to buy the designer piece themselves.
With a huge catalogue of Nanny outfits at this point, it's hard for Brown to pick a favorite, but she did admit that she's got a soft spot for the red turtleneck paired with the black and white checkered skirt.
Like a Checkers drive-thru sign, come to life.
What's more Fran Fine than that?