This soul food restaurant is Michael Chabon's favorite place in the world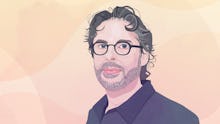 In My Happy Place, we talk to some of our favorite people about their emotional connection with an unforgettable destination.
Pulitzer Prize winner Michael Chabon has written some of the greatest works of modern American fiction. The author's writing is wide-eyed and energetic, and when Mic caught up with Chabon in November, he appeared in similar form.
Chabon was at the New York Public Library's Library Lions gala, where he was one of five honorees. The annual benefit honors artists, authors and creatives who have made outsized contributions to their fields.
When asked about his favorite place, Chabon tilted his head back in concentration and stood in silence for a minute before sharing his answer. "Brown Sugar Kitchen," he said. "It's a soul food restaurant." Brown Sugar Kitchen's chef-owner, Tanya Holland, is currently a contestant on season 15 of Top Chef; Chabon wrote the foreword for the restaurant's cookbook, which came out in 2014.
"It's in this sort of warehouse-y part of Oakland, [California], it's far West Oakland where there's not a whole lot around, so you kind of have to get there on purpose," Chabon said.
Brown Sugar Kitchen represents "the most concentrated essence of the rich cultural diversity of Californian heritage" and "of the United States generally," Chabon said. For him, it's a representation of the multilayered history of soul food in America.
"When you look at a plate of soul food, there's yams on the plate, those are African. Grits, hominy; that's Native American. Then there's slow-roasted pork stew ... with bacon, that's a European thing," Chabon said.
Chabon isn't far off. Soul food is "a fusing of the ingredients and culinary techniques of West Africa, West Europe and the Americas," Adrian Miller, the James Beard Award-winning author of Soul Food, told Mic in a phone interview.
Take collard greens, for example. West Africans who were forcibly brought to North America as slaves were accustomed to cooking with greens called bitter leaf. In America, they adopted collard greens, a Eurasian plant which had been brought over by European colonizers.
But how did the classic dish of collard greens end up with pork in it? West Africans traditionally cooked bitter leaf with fish, but when they were transplanted to America, pork was more readily available, according to Miller.
Miller views the history of soul food as a triumph: "The fact that all of these things were thrown at African-Americans to make it difficult for them to survive, but the indomitable spirit of the people not only figured out how to make powerful dishes, they [also] figured out how to make food delicious and they helped define American cuisine."
For Chabon, spots like Brown Sugar Kitchen and its soul food aren't just reminders of America's dark past. They're also reminders of how easily people can forget America's enduring multiculturalism.
Both Chabon and Miller believe appreciating the diversity hidden in our cuisine can bring about increased understanding. "If you can pique someone's interest by the complexity of the food," Miller said, "maybe they'll take the extra step to get to know the people behind the food."