Pre-Black Friday Sales: BS or a good deal? Why the best 2017 trick to save money is all about timing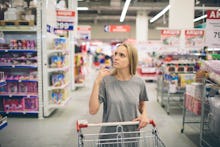 Does the idea of entering a store on Black Friday make you shudder? If so, you're not alone. Three out of four shoppers in an October eBay survey said they'd rather make a sacrifice or give something up than endure Black Friday lines — including one in four who said they'd rather have a root canal!
Indeed, there's a good case that, unless you get lucky, Black Friday is a bit of a marketing mirage: Some research shows you may actually pay more for Black Friday "bargains," while other analyses suggest average savings on the unofficial shopping holiday might be less than 5% — compared with about a 17% average discount for those shopping on Dec. 18.
Now, of course there are exceptions. But a big lesson is that advertised get-em-while-they're-hot deals can be misleading, and it pays to stay informed and prepared. For one, it's generally best to start any shopping trip with a list — so you purchase only those holiday gifts (or self-gifts) you actually need and want, rather than becoming victim to an emotional impulse buy.
And most importantly: No matter when you're shopping, you should first Google for the normal retail price of the items you're buying. Don't just assume Black Friday prices are true bargains: A year-to-year analysis revealed many such deals were actually repeat offers rather than unmissable opportunities.
The good news? This all means you should feel freer to shop before — or after — the masses descend upon your favorite stores: "Even the 'official' Black Friday sales that are promoted in the ads are starting earlier than before," said Lindsay Sakraida, director of content marketing with DealNews. "That offers a great opportunity." And while some stores open on Thanksgiving, broader early sales mean you can still get really good deals — whether you need a new 4K TV or a KitchenAid Stand Mixer — without missing your second slice of pumpkin pie at Thanksgiving dinner.
To be fair, there are a few items for which you might need to wait: "Usually, pre-Black Friday deals are still quite good, but they won't be doorbuster caliber," Sakraida said. "You're unlikely to see rock-bottom pricing on tech until the week of."
Still: "The savings will still be above average, for anyone that doesn't want to bother shopping during the pinnacle of the season," Sakraida added.
In general the evidence is clear — you do not need to feel beholden to Black Friday shopping if you really don't want to. Some expert moves? First, try snagging pre-Black Friday holiday coupons and reading up on Cyber-Monday shopping hacks. Then read on: This is how to time your shopping and save.
1. First, learn store hours — like for these stores open on Thanksgiving Day
Want to hit the stores on Thanksgiving? You'll need to know retail hours.
Many shops open for at least some part of Thanksgiving. For example, Walmart and most Kohl's stores will open their doors at 6 p.m. on Thanksgiving Thursday and stay open for 24 hours on Black Friday — while Target will also open at the same time on Thursday but close at 11 p.m. on Black Friday.
If the store you're hoping to shop at isn't open during your desired hours, you still may be able to score deals during prime shopping days: "Often you won't need to shop in store to get most deals, which makes shopping during Black Friday week less stressful for most people," Sakraida said. "Even on Thanksgiving Day, most items will be available online which means you can shop with little interruption to your holiday festivities."
2. Then find the best Black Friday pre-sales
If you're hoping for bargains, you can start shopping well before Thanksgiving day. "In years past, Best Buy and Target have released deals early, and Amazon does a long wind-up to Black Friday, releasing deals in waves," Sakraida said.
You can score bargains on a wide array of items if you shop early. "Typically, we see deals on soft goods and smaller electronics before Black Friday week," Sakraida said. "Once Sunday before Thanksgiving rolls around, however, the deals switch to more electronics... This will increase the closer we get to Black Friday, peaking on Thanksgiving Day."
12 big retailers offering pre-Black Friday deals:
Amazon: $100 off 2 Echo Shows with code SHOW2PACK
Best Buy: $125 off an iPad mini 4 or $250 off a MacBook Pro
Cabela's: Nearly 50% off a pair of Leupold binoculars and a vacuum sealer for food, now through Nov. 22.
eBay: a KitchenAid Stand Mixer for $250, a Dooney & Bourke hobo shoulder bag for $127 and a Hoverboard for $140
JCPenney: The chain's pre-Black Friday sale starts online Nov. 19, and could include 50% off select toys and 80% off jewelry. Meanwhile
Kmart: Save up to 40% on pajamas, 30% off women's sweaters and 25% off Christmas trees and
Kohl's: $100 off a 55-inch 4K TV from Kohls available Nov. 20.
Lowe's: Get the mini Google Home voice-activated speaker ($29), the Nest thermostat ($199), poinsettias ($0.99), Christmas ornaments (25% off) and up to $500 in rebates.
Nordstrom: up to 40% off clothes
Patagonia: 50% off past-season gear from Patagonia available now;
Sam's Club: Black Friday deals start a week early this year on Nov. 17. Specific offers have yet to be announced but you can check their site then for specifics.
Sears: 10-50% off everything
Sites like DealNews, Offers.com and Slickdeals can keep you updated on the best bargains as new ads are released. Be sure to check back regularly on sites that tend to offer Black Friday bargains. "Sometimes, to remain competitive, stores like Walmart will unexpectedly release choice door busters online early when faced with competitors with similar deals," Sakraida said.
3. Consider shopping after Black Friday
Not on the ball enough to get your shopping done now? Don't worry — there are more deals coming down the pipeline, with some great bargains available as soon as the Monday after Thanksgiving, better known as Cyber Monday. Most stores, including both online-only sites and brick and mortar stores with an online presence will offer bargains.
Cyber Monday deals at Walmart will be announced soon, for example, and will be available on electronics, video games, home products, furniture and more. Amazon's Cyber Monday deals are expected to be similar to Black Friday bargains, including $30 off a Kindle Paperwhite e-reader and $15 off the Echo dot, Forbes reported.
There are plenty of pre-Christmas sales on electronics, toys, clothes, jewelry and more to take advantage of including, Amazon's 12 Days of Deals that usually runs from Dec. 1 to Dec. 12 and Costco's 12 Days of Christmas deals, which also start Dec. 1.
If you have kids on your shopping list, Today suggests toy deals will also be better in December, while USA Today indicates Dec. 23 is usually the best day to score deals on clothing; of course, this year you'll want to start early on that Saturday before Christmas — known as "Super Saturday" — as that day has come to surpass Black Friday in sales and will likely be just as busy.
DealNews also recommended waiting until December to score the best deals on gift cards that you can buy at a discount around the holiday season, which tend to flood the market during that time of year, and waiting until January to buy jewelry at pre-Valentine's Day bargain prices.
In short? To make sure you get the best bargains, figure out what your strategy is — for shopping at the right time, in the right place, and at the right price — to have a successful holiday shopping spree. Want more smart advice to save money this month? Here is how to get richer (not poorer) over the holidays.
Sign up for the Payoff — your weekly crash course on how to live your best financial life.