A year after his election, here are 8 ways the US has changed under Donald Trump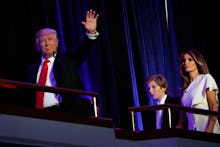 Welcome to Mic's daily read on Trump's America. Want to receive this as a daily email in your inbox? Subscribe here.
Thursday's dispatch: How the U.S. has changed since Trump's victory
A year ago, Americans on the left and right began coming to terms with the fact Donald Trump had been elected president.
Now, a year and a day after Trump's Nov. 8, 2016 victory, we must consider what is similar and what is different about politics in America.
1. Trump has eroded political norms. Trump has changed what is allowed in politics at almost every turn. "In the year since his election, the president has persistently normalized the abnormal in ways big and small, concrete and abstract, obvious and subtle — from 'unpresidential' rhetoric to the undermining of federal agencies," Mic's Eric Lutz wrote in a review of how Trump has changed the nation.
2. Our partisan divides are deeper. Trump promised to unite the country, but Republicans and Democrats are further apart on key political issues after Trump's first year than ever before.
3. Republicans are facing a defining choice. Run with Trump or away from him? "You can't be the anti-Trump guy in the primary. But you don't want to be the 100%-for-Trump guy in the general," a GOP pollster told Politico.
4. That choice is threatening to rip apart the party. Steve Bannon is recruiting far-right conservatives to pose primary challenges Republican senators across the country. His targeting of high-profile Republican leaders, like Wyoming Sen. John Barrasso, will cost the party resources and pull candidates to the right in order to win. It's already led to Sens. Bob Corker (R-Tenn.) and Jeff Flake (R-Ariz.) saying they'll resign. And House Republicans are announcing their retirements instead of trying to run in competitive districts against Democrats.
5. Progressive energy isn't waning. In the days after Trump's election, many Americans opposed to him wondered how they could jump into politics. So, many people founded new groups, joined existing organizations, ran for office and much more. That led to progressives winning in key places on Tuesday to bring historic victories.
6. But it's not clear progressives will take over the Democrats. Tuesday's elections showed Democratic candidates can be popular on the state and local level. But disapproval of the party as a whole remains low, at its lowest point in 25 years. Various outside groups are jockeying to present their ideology as the best path forward for Democrats — a process that has been far from comfortable or seamless.
7. Many key problems for voters remain unaddressed or worse. Cost of health insurance, increasing pay for workers, improving some trade deals — Republicans and Trump have done little to move the needle. Their health insurance proposals could not pass the Senate, so Trump ended cost-sharing subsidies and destabilized the market. It's not clear the tax reform plan would benefit the middle class. And NAFTA remains in effect.
8. Yet Trump has made major changes elsewhere. Climate change, killing other trade deals, immigration — a few areas where U.S. policy has shifted substantially. Trump is being more aggressive about deportation, and provisionally ended the Deferred Action for Childhood Arrivals program for immigrant children. The U.S. is now the only country not in the Paris climate agreement. And Trump often presents the U.S. as isolationist.
Today's question: How do you feel a year after Trump's election?
Please email us your thoughts at trumpsamerica@mic.com.
Thursday in Trump's America:
Republicans desperately want to pass tax reform. They view it as do-or-die legislation after a failure to repeal and replace the Affordable Care Act.
The problem: The House plan is substantially more conservative than the Senate plan, which will be unveiled Thursday. That House package is already drawing "no" votes from some Republicans in states like California and New York, high-taxed states where constituents could see their taxes rise with the elimination of the local-state tax deduction.
Some Republicans are considering adding a repeal of the Affordable Care Act's individual mandate to the tax bill. That would save more than $330 billion — revenue the GOP can use to give corporations a tax cut — but would increase the number of uninsured Americans by several million.
Tax reform will likely clear the House Ways and Means Committee on Thursday, preparing it to head to the House floor next week.
The New York Times reported the Department of Justice may want CNN to be sold off as a condition of a Time Warner and AT&T merger. That is a major shift after many people assumed the deal was about to be cleared. Trump regularly attacks CNN and said during the campaign he would not approve such concentration of power in the media landscape.
Here are the terms of a U.S. deal with North Korea. The Trump administration reportedly wants North Korea to commit to going 60 days without any missile tests. (It's been nearly two months since the last test on Sept. 15). Trump surprised earlier in his Asia trip when he toned down his rhetoric on North Korea and said he was open to negotiation.
Speaking of Asia, Trump said while meeting with Chinese President Xi Jinping that he blames previous U.S. presidents for letting the U.S. trade deficit with China grow — not the Chinese.
Democrats in states: "All told, Democrats flipped about two dozen state legislative seats around the country Tuesday and have now gained at least 30 seats previously held by Republicans since President Donald Trump won election last year," the Associated Press reported. Remember: Democrats lost about 1,000 state legislative seats over the past decade.
Hearing on Trump and nuclear weapons. Corker, the Tennessee Republican who has recently criticized Trump, will hold a Senate hearing next week to examine Trump's "authority to use nuclear weapons." That follows Corker saying the White House has become a "day care center" that manages Trump's mood swings.
How did progressives nearly sweep a bellwether Virginia county? And what does it mean for 2018? A deep-dive into the election results from one fascinating county in northern Virginia.
Today's MicBite:
Here are the candidates who made history on Tuesday night. Tap or click the video below to watch.