15 easy tricks to make Thanksgiving cooking less stressful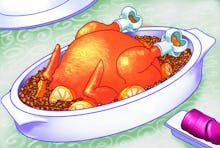 With every passing second, you have less time to prepare Thanksgiving dinner. Whether you're hosting a group of 30 or three, there are always new tricks to master the biggest food holiday of the year. From quick food prep to staying organized, here are some easy ways to make a feast even better than last year's.
Food hacks
Transform a store-bought pie into something seemingly homemade.
Chef Elizabeth Heiskell, aka the Debutante Farmer, has a brilliant method for cutting corners when it comes to Thanksgiving dessert. "Take a plain and boring store-bought pumpkin pie, and using a biscuit cutter, cut out individual pumpkin pies," she told Today. "Top with bourbon whipped cream for an adorable twist on a traditional recipe."
Make "no-peel" mashed potatoes.
If the act of peeling a dozen russets sounds exhausting, you could always just make mashed potatoes out of frozen french fries as shown in the video above. Who's to judge?
Bag your ice cream.
Place open pints of ice cream in a plastic bag before returning them to the freezer. This tried-and-true method will keep ice cream soft and prevent freezer burn — not to mention take the stress out of waiting for ice cream to soften before serving your dessert a la mode.
Freeze herbs for later.
It's rare to use an entire bundle of fresh herbs in a recipe. Rather than let the leftovers go to waste, place chopped herbs in an ice cube tray and pour a bit of oil or melted butter into every cube. According to the Kitchn, this method will prevent the herbs from browning or suffering freezer burn.
Once frozen, you can store the herbaceous ice cubes in plastic bags in the freezer and use when the urge strikes. The Kitchn recommends using firmer herbs like rosemary, sage and oregano and labeling the bags so you know what kind of green the cubes contain. This isn't necessarily an immediate time-saver, but your future self will thank you.
Hold on to your lemons.
When life gives you lemons, squeeze them and then use the rest of the citrus to make everything smell better. Rather than tossing a squeezed lemon half, use the remaining juices to help sanitize cutting boards and hands. The fruit works wonders in cutting through not-so-pleasant odors.
Keep some dental floss handy.
Dental floss doesn't just belong in the bathroom. A string of unscented floss can cut through stubborn baked-on cookies and slice through cheese and cakes with perfect symmetry.
Speed-thaw your turkey.
We don't have time to ask why you forgot to thaw the bird. Here are five methods that can help you get that bird cooking faster than you thought possible.
Pick up the phone.
If you're having a full-blown Thanksgiving cooking dilemma, you can always call Butterball's Turkey-Talk line to ensure you're making the right move. A calming presence on the other end of the line will help quell your stress.
Get organized
Go vertical.
Whether you present Thanksgiving dinner on the dining room table or opt for buffet-style, cake stands can add a fancy touch. Setting your dishes on cake stands means you'll have extra room on the table for food or some autumnal decor.
Hang your recipes.
If you're working from a paper recipe, it's in your best interests to get it out of the madness of your cooking space. This idea from SnapGuide keeps instructions in place and reduces the risk of a oil-splattered recipe card.
Bring out the ironing board.
This trick earned Food52's "gold medal kitchen hack" title in 2012. Set up a sturdy ironing board in the kitchen and use it to host the many sides you thought you didn't have any room for.
Find a new use for your old cutting boards.
Still need more space? Place cutting boards atop open drawers and there you have it — a platform for casserole dishes.
Make new traditions
Go the Trader Joe's route.
Forget dirtying multiple baking pans and fretting over various oven times and make one, big hunk of Thanksgiving-ness. The turkey and stuffing en croute from Trader Joe's includes turkey, cornbread stuffing, gravy and cranberry sauce — the four Thanksgiving essentials. The 40-ounce masterpiece costs just $12.99 and can be cooked in about an hour. All that's left to care for is the booze and dessert.
Try a new, more comfortable look.
In years past, perhaps you dressed in your finest threads to honor thy turkey, only to unbutton or unzip halfway your meal to make room for more eating. Forgo your traditional look in 2017 for Stove Top's Thanksgiving Dinner Pants, designed with a stretchy waistband (think maternity jeans) intended to provide comfort all the way through your post-dessert food coma. The pants, which retail for $19.98, are currently sold out, according to Stove Top's website, but there's no reason you can't imitate the gimmicky look with something from the maternity aisle.
Consume classic Thanksgiving fare in ice cream form.
For $65, you can purchase five pints of Thanksgiving-flavored ice creams from Salt and Straw. Flavors include salted caramel Thanksgiving turkey (complete with real chunks of turkey), sweet potato casserole with maple pecans, buttered mashed potatoes and gravy, apple cranberry stuffing and spiced goat cheese and pumpkin pie. You and your guests will only need spoons to sample every classic Thanksgiving flavor — and no one will have to save room for dessert.