This Toronto pop-up hired only HIV-positive chefs to prove you can't contract the disease from food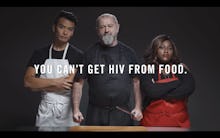 It's 2017 and people who are HIV-positive still face significant discrimination. A recent survey by Casey House, a Canadian hospital dedicated to supporting people who live with HIV/AIDS, revealed that nearly 40% of Canadians didn't want to eat food prepared by someone who is HIV positive. The Public Health Agency of Canada estimated around 75,500 Canadians were living with HIV in 2014.
To raise awareness of the disease and the stigma that still surrounds it, Casey House organized a pop-up restaurant called June's HIV+ Eatery, staffed entirely by chefs who are living with HIV. On Nov. 7 and 8, guests at the sold-out event dined on a four-course dinner.
"The chefs were all HIV activists within the community of Toronto," Lisa McDonald, communications specialists for Casey House, said in a phone interview. McDonald noted that the volunteer chefs were led by Matt Basile, president of Toronto restaurants Fidel Gastro's and Lisa Marie, and guests ate a gourmet meal that included potato leek soup, a roasted heirloom salad, Arctic char, skirt steak and tiramisu.
One of the chefs, Mikiki, who was identified by only his first name, told the Toronto Star that representations of people with HIV in media often treat the disease like a death sentence, which isn't a reality with modern medical advancements. "[The pop-up] allows us to be seen as, honestly, just as humans," Mikiki told the Toronto Star.
Misconceptions around how HIV is transmitted motivated Casey House to put on the event, McDonald said.
People would comment on Casey House's social media, "'I don't want someone with HIV handling my food!' And other people would respond back, quite rightly, that you probably have had food prepared by someone with HIV," McDonald said. "It's a fear-based misconception."
As the Casey House Twitter points out, you cannot get HIV from a person's sweat, saliva or urine.
Volunteer chefs included Muluba Habanyama, an activist and motivational speaker living with HIV and Christian Hui, another HIV-positive activist.
Habanyama posted to a behind-the-scenes peek of her cleaning plates at the event on Tuesday night.
McDonald said that, for now, Casey House hasn't planned another pop-up.
"We're hoping that the conversation continues. We want to remind people that [HIV/AIDS] is a serious health issue in Ontario and Canada," she said.  
To learn more, check out this video for the Casey House #SmashStigma campaign.