Rand Paul was apparently assaulted by his neighbor, and no one knows why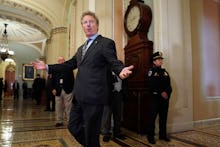 Sen. Rand Paul (R-Ky.) has six broken ribs and a pleural effusion after he was reportedly attacked by a neighbor while mowing the lawn of his home in Bowling Green, Kentucky.
But days later, Paul's injuries are really the only concrete thing we know about this bizarre attack.
Paul's neighbor, retired anesthesiologist Rene Boucher, pleaded not guilty on Thursday to a misdemeanor charge of assault in the fourth degree. He was released from jail on a $7,500 bond.
And neither man has given many details about what could have led to the episode that is keeping Paul away from Washington, D.C., as he nurses himself back to health.
Boucher's lawyer described the incident as an "unfortunate occurrence" that has "absolutely nothing to do with either's politics or political agendas" — but offered nothing else about what could have led to the dispute.
"It was a very regrettable dispute between two neighbors over a matter that most people would regard as trivial," Boucher's lawyer, Matthew Baker, told Fox News.
Paul has also given no details about what could have led to his attack, and merely thanked those who sent well-wishes for what he called an "unfortunate event" — mirroring the language used by Boucher's lawyer.
Neighbors in Paul's gated community told the New York Times that the incident was a "landscaping dispute."
Paul apparently ignores neighborhood regulations, and reportedly grows pumpkins and composts waste on his property, according to the Times' report.
"They just couldn't get along. I think it had very little to do with Democrat or Republican politics," Jim Skaggs, a neighbor in the community, told the New York Times. "I think it was a neighbor-to-neighbor thing. They just both had strong opinions, and a little different ones about what property rights mean."
However, other neighbors say it wasn't a landscaping dispute, and say the only person who really knows why the attack happened is Boucher.
"As a friend and neighbor of the Paul family, I have been disturbed by the inaccuracies in numerous media accounts of the assault that occurred on Friday, November 3rd," neighbor Travis Creed told Breitbart News. "The stories of a 'landscaping dispute', or a dispute of any sort between Rand Paul and Rene Boucher are erroneous and unfounded. The reason for Mr. Boucher's bizarre attack is known only to him. Statements to the contrary are irresponsible and unnecessary."
Paul tweeted out the Breitbart report that knocks down the "landscaping dispute" argument on Wednesday night, without any other context given.
It's possible the reason for the attack will eventually surface.
Boucher's "not guilty" plea will lead to legal briefs, which could offer more context behind the dispute, should the case move forward.
Until then, the mystery around Paul's attack will continue.