Rain Dove and Munroe Bergdorf front a new gender-fluid beauty campaign for Illamasqua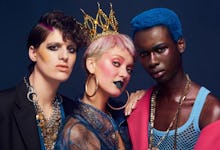 The forward-thinking makeup brand Illamasqua is showing us what the genderless makeup industry of the future could look like.
In its holiday campaign, called "Human-Up," the brand explores gender, with Munroe Bergdorf, who made history as L'Oréal U.K.'s first transgender spokesmodel and was then promptly fired after condemning white supremacy, and Rain Dove, the model and activist who is gender fluid or gender non-believing, as two of the stars.
"It's not about being a girl; it's not about being a boy," the campaign reads. "Forget the biology. It's about being free to explore your individuality, celebrating who you are today, and who we all want to be tomorrow."
In the campaign video, Bergdorf and Dove are joined by Vicky Rose and a model by the name of Emmanuel to show that makeup isn't for people of one gender alone.
Along with the print campaigns and video, Illamasqua made a point to let both Dove and Bergdorf speak out about their own relationship to gender in a blog and additional video.
"When people try to make others live a certain lifestyle just because they're born with a specific genitalia and assigning them with duties and obligations, even sexpectations; it's dangerous and it's limiting. It's not the label, it's the limitation," Dove said.
"People are obsessed with gender because is all that we know, it's what is drilled in to us at an early age," Bergdorf said. "So once we start to let go of that, why can't we challenge all of these things we're told? They don't matter. Once we start putting less importance on gender, we can start having fun with it, and it just becomes a lot more freeing."
Additionally, Ilamasqua, which is no stranger to politics and has issued an anti-fascism pledge for all its customers in the past, is now reminding its customers of a few of the pillars of the company yet again, like "Never discriminate against race, color, nationality, ethnicity, gender, age, disability, sexual orientation or religion," and "speak for those who cannot speak up for themselves."
Mic has reached out to Illamasqua for further comment.