Hundreds rally on Capitol Hill to demand passage of Dream Act to protect 800,000 immigrants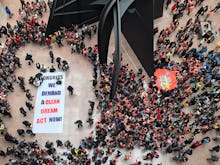 WASHINGTON, D.C. — Hundreds of activists demanding Congress pass the Dream Act gathered in a U.S. Senate office building Thursday morning. The protest, organized by United We Dream, came a week after reports that Republicans would present a deal to continue funding the government in December that does not include protections for Deferred Action for Childhood Arrivals recipients.
Chants of "Sí se puede!" (Spanish for, "Yes, we can"), "Here to stay" and "Dream Act now" rang out in the seven-story, open lobby of the Hart Senate Office Building. Senators and their staffers faced more than 600 protesters beginning Thursday morning, Bruna Bouhid, national communications manager for United We Dream, told Mic.
The #DreamActNow protest was joined by groups like the National Immigration Law Center and the American Civil Liberties Union. Students at George Washington University in the nation's capital walked out of classes to join the Thursday protest.
The protest is only the latest push by immigrant groups to force Republicans to take action on protecting DACA recipients. In September, President Donald Trump announced he would end the program with a six-month delay — giving Congress time to come up with a permanent fix.
While a majority of Democrats and Republicans in Congress support a pathway to citizenship for children who were brought to the U.S. with undocumented parents, GOP leaders have made advancing that legislation difficult. Trump has gone between saying a deal to protect DACA recipients must provide funding for his border wall or just add increased border security funds.
Wary of trusting Trump, 25 Democratic House members wrote an op-ed on Wednesday demanding the federal funding bill — which must be passed by Dec. 15 to avert a government shutdown — must include protections for "Dreamers," the DACA recipients who would be given a pathway to citizenship with the Dream Act's passage.
Democratic opposition to keeping the government open — and in turn, funding federal agencies that deport immigrants — without protection for DACA recipients is gaining steam in the Senate and House. Thursday's protest only serves to ramp up the pressure.
"Today you saw immigrant young people and allies take back their power," Bouhid told Mic. "Today's action had a clear message for [House Speaker] Paul Ryan and [Senate Majority Leader] Mitch McConnell: We need a clean Dream Act by December and we will not sit back while you play with our lives."