Twitter suspends verifications after giving blue check mark to alt-right Charlottesville organizer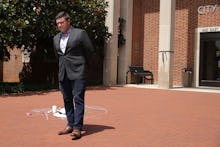 Twitter has suspended "verifications" after giving a blue check mark to Jason Kessler, the white nationalist leader who organized August's deadly "Unite the Right" rally in Charlottesville, Virginia, the social media platform announced Thursday.
"Verification was meant to authenticate identity & voice but it is interpreted as an endorsement or an indicator of importance," Twitter said in a statement. "We recognize that we have created this confusion and need to resolve it."
Twitter has come under scrutiny in recent days for verifying Kessler, who tweeted Tuesday that he "must be the only working class white advocate with that distinction."
Critics have called out Twitter founder Jack Dorsey in recent days for what they said seemed to be a tacit validation of violent racism.
On Thursday morning, two days after Kessler got his verification, Dorsey responded to the criticism on Twitter, saying that the company's verification program is "broken and needs to be reconsidered."
"We failed by not doing anything about it," Dorsey tweeted. "Working now to fix faster."
Twitter awards a blue check mark to accounts of "public interest" that it "deems authentic," according to the company.
But its methodology for authenticating accounts is unclear, as Vanity Fair noted Thursday; for instance, the company unverified the account of alt-right agitator Milo Yiannopoulos back in early 2016, apparently as part of an effort to rein in the harassment plaguing the site.
The Charlottesville rally organized by Kessler led to the death of Heather Heyer — a 32-year-old protesting the white nationalist demonstrators. Kessler condemned her as a "fat, disgusting Communist" whose death was "payback" in a since-deleted August tweet sent from his account.
According to Twitter's statement Thursday, the site has "paused all general verifications while we work and will report back soon."