GOP Alabama Senate candidate Roy Moore accused of molesting a 14-year-old girl in 1979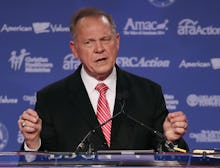 Roy Moore, the Republican nominee in Alabama's upcoming Senate special election, is accused of molesting a 14-year-old girl back in 1979, according to a report in the Washington Post. The accusation throws a bombshell into the race roughly a month before voters head to the polls.
The accusation comes from Leigh Corfman, who told the Washington Post that Moore molested her multiples times in 1979. She was 14 at the time and Moore was 32.
Corfman told the Washington Post that Moore molested her on two separate occasions. In one instance, Moore kissed her — even after she told him she was 14.
On a second occasion, Corfman told the Washington Post that Moore undressed her and touched her through her bra and underwear, and attempted to put her hand on his underwear.
"I wasn't ready for that — I had never put my hand on a man's penis, much less an erect one," Corfman told the Washington Post. 
Three other women also told the Washington Post that Moore "pursued them when they were between the ages of 16 and 18 and he was in his early 30s."
Moore has denied the accusations, telling the Washington Post that "this garbage is the very definition of fake news."
However the accusations are sure to dog Moore's Senate bid in the final days of the race, which will be held on Dec. 12.
Moore currently leads Democrat Doug Jones by 6 points, according to the RealClearPolitics average.
A handful of Republicans have called for Moore to drop out in the wake of the report.
They include GOP Sens. Lisa Murkowski of Alaska, David Purdue of Georgia and Jeff Flake of Arizona.
"I'm horrified and if it's true he should step down immediately," Murkowski said, according to NBC's Frank Thorp V.
Only one, Sen. John McCain (R-Ariz.), didn't qualify his statement, saying outright that the accusations are "disqualifying" and that Moore "should immediately step aside."
However it's too late for Moore's name to be removed from the ballot, according to the Washington Post's Aaron Blake.
Even worse for Republicans is that a number of Senate Republicans who initially did not support Moore's bid have now endorsed him, including Senate Majority Leader Mitch McConnell and Senate Majority Whip John Cornyn.
"Senate Republicans will be as committed to keeping Alabama's Senate seat in Republican hands with Roy Moore as we were with Luther Strange," McConnell sad back in September, when Moore defeated McConnell's preferred candidate in the special election GOP primary runoff.
The National Republican Senatorial Committee, which seeks to elect Republicans to the Senate, is also backing Moore's bid.
McConnell has now said that "if" the Moore allegations are true, "he must step aside."
NRSC Chairman Cory Gardner (R-Colo.) said the Moore allegations are "deeply troubling."
Moore was already a controversial nominee.
He has made Islamophobic remarks, saying Democratic Rep. Keith Ellison should not have been allowed to serve in Congress because he's Muslim.
Moore has also made offensive comments about LGBTQ Americans, and was even removed from a judgeship in Alabama after he refused to follow the Supreme Court ruling making same-sex marriage legal in the U.S.
Moore sought to get out ahead of the allegations, going to Breitbart News before the Washington Post story was published to preemptively deny the account and try to blame the newspaper for engaging in a "smear campaign."
The bombshell comes in the wake of the Harvey Weinstein scandal, which has led to dozens of women coming forward to accuse powerful men of sexual harassment or rape.
Nov. 9, 2017 3:15 p.m.: This article has been updated.