iPhone "I" Bug: IOS 11 update addresses the "A?" and "#?" autocorrect error, here's how to get it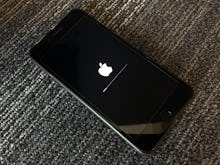 Apple's release of iOS 11 brings with it goodies for iPhone users like new Messages app effects, night mode and more. But despite the cool new features, the operating system still has some bugs — mainly that autocorrect changes the letter "I" into weird symbols. The latest iOS 11.1.1 update finally fixes this keyboard error.
Thanks to this bug, tapping the letter "I" and then the space bar would sometimes autocorrect to a very weird character, with a question mark inside a box and maybe even a hashtag or the letter "A." Other times it would appear as a bunch of horizontal bars, as seen here.
Running the same test under iOS 11.1.1 looks like this.
In our previous post we mentioned Apple's hack around this error: Add the word "I" to your text replacement word bank. For those who don't want to do that, the latest update solves this problem.
How to install iOS 11.1.1 on your iPhone
How do you install the update, you ask? Head over to the Settings app and tap General, then Software Update and then Download and Install. Input your passcode and you should be good to go. The update is around 50 MB, depending on the phone you're using. Always make sure your "#?"Phone is up to date.