5 women accuse comedian Louis CK of sexual misconduct ahead of his movie premiere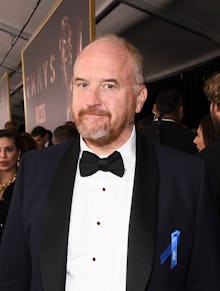 On Thursday, five women accused comedian, actor and director Louis C.K. — real name Székely — of sexual misconduct against them ahead of the release of his upcoming film, I Love You, Daddy, the New York Times reported.
According to Chicago comediennes Dana Min Goodman and Julia Wolov, two of the women coming forward with their story, C.K. masturbated in front of them after inviting them to his hotel room under false pretenses in 2002. According to comedian Rebecca Corry, C.K. asked to masturbate in front of her in 2005 when they were both appearing together in a television pilot. According to writer and illustrator Abby Schachner, C.K. masturbated while speaking to her on the phone.
"You want to believe it's not happening," Schachner said, adding that in the years that followed, she would feel angry, betrayed and ashamed about the incident.
A spokesperson for C.K. would not respond to the Times inquiry about the accusations.
"Louis is not going to answer any questions," Lewis Kay, C.K.'s publicist, said.
Ahead of the accusers' stories going public, the distribution company for I Love You, Daddy canceled the New York premiere of the film.
"Due to unexpected circumstances, tonight's event for I Love You, Daddy has been cancelled," the Orchard said in an email, according to Variety. "On behalf of The Orchard, please accept our apologies. We're incredibly sorry for any inconvenience."
Ironically, the film's narrative was hailed by some as a scathing critique of lecherous Hollywood directors and their predatory behavior toward women. It was written and directed by C.K., and stars Rose Byrne, John Malkovich and Chloë Grace Moretz.
C.K. is the latest major player in Hollywood to be accused of sexual misconduct since the Times first surfaced decades of accusations against disgraced producer Harvey Weinstein.